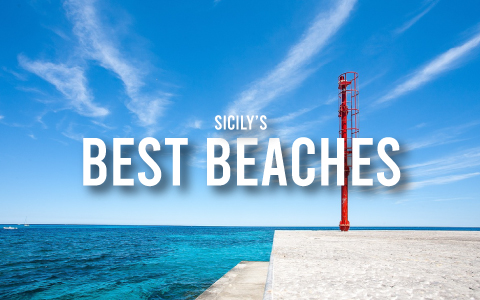 Let's discover the best beaches in Sicily
Sicily is the largest island in the Mediterranean Sea. It means that it has plenty of stunning beaches. But which are really worth visit, if you are coming to the island for the first time? Here is our list of 10 of the best beaches in Sicily.
10 of the best beaches in Sicily
San Vito Lo Capo
Located on the northwest coast of Sicily, near Trapani, San Vito Lo Capo boasts crystal-clear turquoise waters and a long stretch of white sandy beach, surrounded by mountains.
It's a popular destination for sunbathing, swimming, and water sports.

Mondello
Just outside of Palermo is the beach of Mondello. I
t is a picturesque beach with fine golden sand and shallow, calm waters.
It's a favorite spot for locals and tourists alike and offers various facilities, including beach clubs, restaurants, and bars.
In addition, there are numerous beautiful Art Nouveau villas in the area that are worth seeing.
Scopello
This beach is located between Castellammare del Golfo and San Vito Lo Capo.
It actually consists of several coves with sheer cliffs and small beaches of sand and pebble.
The stacks and rich seabed make Scopello perfect for snorkeling
Zingaro Nature Reserve
Not far from Palermo is a nature reserve that is home to some of the most beautiful beaches in Sicily. It is the Zingaro Reserve, with its 7 km of unspoiled nature.
The beaches in this reserve can be reached on foot, via scenic paths that will make trekking lovers happy.
The largest and most popular beach is Cala Tonnarella dell'Uzzo, but if you are looking for a quieter atmosphere you can go to the small Cala Capreria.
Cala Rossa
Let's take the boat and go to the island of Favignana, in front of the west coast of Sicily.
Here is Cala Rossa, a stunning beach which name seems to derive from a cruel ancient battle between the Romans and Carthaginians. Today, it offers a fabulous sea, among the clearest on the island.
Scala dei Turchi
Located near Agrigento on the southern coast of Sicily, Scala dei Turchi is one of the best beaches in Sicily.
It is particularly famous for its unique white marblestone cliffs that slope gently into the sea. The contrast between the white cliffs and the deep blue water is breathtaking, making it a must-visit beach.

Isola Bella
Among the most beautiful beaches in Sicily is Isola Bella (beautiful island). It was a German baron who gave the island its name, fascinated by the beauty of the view.
Located near Taormina, this is a small island connected to the mainland by a thin strip of sand. The beach here is pebbly but offers stunning views of the surrounding coastline, and it is another great spot for snorkeling and diving.
We recommend taking a boat trip around the island to see Naxos Bay, the Blue Grotto, and the Shell Grotto.

Calamosche
Located in the Vendicari Nature Reserve, south of Siracusa and not far from Noto, Calamosche is a pristine beach known for its clear waters and untouched natural beauty.
The golden sandy shore is wide and is located right in the middle of two rocky headlands that make the sea always calm.
It's a remote and secluded spot, perfect for those seeking a peaceful beach experience.
In addition, this stretch of coastline is rich in caves.
Cefalù
Located on the northern coast of Sicily, the island of Cefalù offers a beautiful sandy beach overlooked by a picturesque medieval town.
It's a popular tourist destination, combining relaxation on the beach with cultural exploration.

Capo d'Orlando
One of the best beaches in Sicily is situated on the northern coast. Capo d'Orlando boasts a long sandy beach with clean, azure waters. It's a less crowded beach compared to some others on the island, making it an ideal choice for a peaceful getaway.

The list of the most beautiful beaches in Sicily could go on and on! Each beach has its own unique charm and we've given you just a few pointers. Now it's up to you to explore different areas of the island to discover your favorite spot.
Are you planning to visit some of these beaches?
Discover our accommodations in Sicily