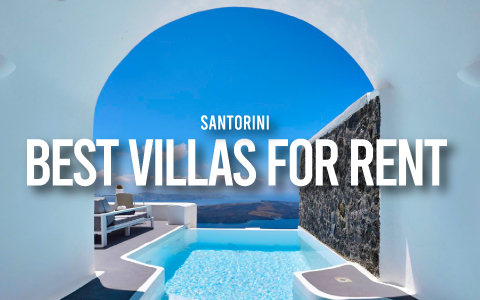 Santorini is one of the most picturesque Greek islands you can visit in your life. However, for your experience to be truly unforgettable, you should stay in a special place, from which to admire the sunsets over the Caldera, or one step away from the best restaurants. We have what you need! Here is a selection of our best luxury villas for rent in Santorini.
OUR BEST VILLAS FOR RENT IN SANTORINI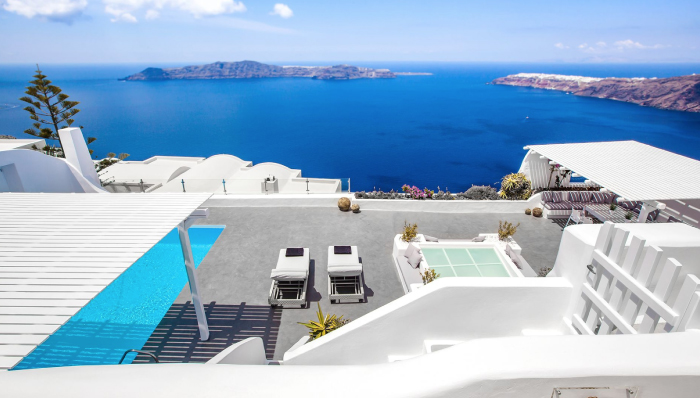 Villa Erossea, Imerovigli
Bedrooms: 5
Bathrooms: 5
Plus: Hot Tub, Private Pool, Gorgeous Sea View
Located in Imerovigli village, west side of the Santorini island, Erossea Villa is a stunning property with breathtaking views over the Aegean Sea. From here you can really enjoy the world-famous Santorini sunset experience!
The Villa has fantastic outdoors all equipped with seating areas with built-in sofas, impressive table with chairs. The spacious terrace offers private heated swimming pool, hydrotherapy pool, a fantastic dining area and of course a sun-lounging area.
Inside, the property features 1 luxury guest house on the ground floor and 3 fantastic master bedrooms on the upper level.
https://www.my-rental-homes.com/en/property/santorini/villa-erossea

Thera King, Pyrgos
Bedrooms: 8
Bathrooms: 6
Plus: Hot Tub, Private Pool, Sea View
Among our best villas for rent in Santorini, Thera King is one of the most peculiar thanks to its extremely modern layout.
Inside, you find a bright stylish living area with a fantastic sea view and direct access to the pool terrace, a modern kitchen, and 3 bedrooms on the upper floor. On the lower floor you find a spa room with hot tub, gym equipment, sitting area, a bedroom and a full bathroom.
The Villa features 3 outdoor swimming pools and large exterior terraces with multiple levels, all equipped with loungers, sunbeds, poofs and outdoors shaded dining area.
There is also a first guest house with 3 bedrooms with direct access to the outdoor terrace, and an extra guest studio with queen size bed, small living area kitchenette and exterior area with private plunge pool and loungers.
https://www.my-rental-homes.com/en/property/santorini/thera-king

Villa Ammos, Akrotiri
Bedrooms: 5
Bathrooms: 6
Plus: Hot Tub, Private Pool, Sea View
Villa Ammos is located on a cliff-top area and features a mix of modern and traditional Cycladic architecture.
It spreads over 3 floors.
On the ground floor there are 2 large suites, the living areas, a kitchen-dining room, one large bathroom, and a playroom. On the two upper floors there are 3 bedrooms that offer stunning views.
The outdoors of Villa Ammos feature 4 decked terraces, an outdoor pool, a Jacuzzi and a BBQ area.
Guests at Villa Ammos can benefit of extra services, such as daily concierge and housekeeping service, breakfast and transportation. A private chef and waiter are available upon request, while limousine service, hiring of private yachts, jets and helicopters can be easily arranged.
https://www.my-rental-homes.com/en/property/santorini/villa-ammos

Palea, Oia
Bedrooms: 2
Bathrooms: 2
Plus: Hot Tub, AC, Sea View
We could not fail to include Palea Suite among our best villas for rent in Santorini. Indeed, this property is located in one of the best spot in Santorini, with a 180 degrees amazing view over the Caldera.
The style of the interiors mixes tradition and modernity creating a unique, comfortable and luxurious environment.
However, the highlight of this property is the outdoors, with various sitting areas, a wonderful rooftop terrace and a spectacular Jacuzzi built into a sort of cave.
Please note that Palea Suite has no kitchen, but offers daily breakfast and a mini bar.
Are you planning a trip to Oia, Imerovigli or Akrotiri?
Discover our accommodations in Santorini