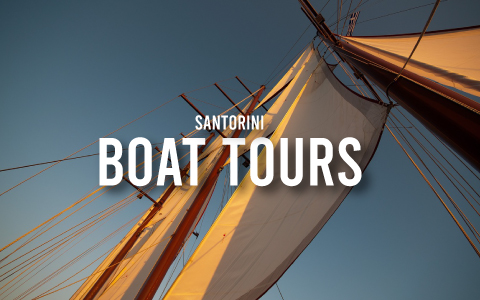 Boat Tours and Sunset Cruises in Santorini
Santorini is one of the most beautiful Greek islands in the Aegean Sea, known for its stunning sunsets and breathtaking views over the caldera. And boat tours and sunset cruises are popular activities when visiting it.
Boat Tours around Santorini
Boat tours in Santorini offer a variety of experiences, ranging from private yacht charters to group excursions. These tours typically depart from the main ports of Santorini, such as Ammoudi Bay in Oia, Athinios Port, or the Old Port in Fira.
During boat tours you can admire Santorini's iconic caldera, formed by a volcanic eruption. You'll have the opportunity to sail along the towering cliffs, marvel at the multi-colored rock formations, and admire Santorini's beautiful beaches and the picturesque towns perched on the caldera's edge.
Some boat tours take you to the neighboring volcanic islands of Nea Kameni and Palea Kameni. Here, you can explore the otherworldly landscapes, take a dip in the natural hot springs, and even hike up to the volcanic craters.
Here are some options you might find.
Sailing tours
Sailing tours often involve private yacht or sailboat charters, allowing you to have a customized experience tailored to your preferences. For example, you can rent a boat with a skipper or captain who will navigate the waters while you relax and enjoy the journey.
Often, sailboat tours offer gourmet experiences on board. You can savor delicious meals prepared by professional chefs using local ingredients, accompanied by Greek wines or champagne.
Sailing tours may include stops at secluded coves or beaches. Some tours provide snorkeling equipment, allowing you to explore the underwater world and vibrant marine life.
As already said, other sailing tours offer the opportunity to explore the nearby islands as part of your itinerary. You may visit places like Thirassia, an island close to Santorini with a more laid-back atmosphere, or even venture further to islands like Ios or Anafi.
Catamaran Cruises
Catamarans are a popular choice for boat tours in Santorini. These spacious and stable vessels offer comfort and luxury while sailing around the island's caldera.
They often include various amenities like sun decks, lounging areas, and sometimes even onboard dining.
Traditional Greek Boats
You can also find traditional wooden boats, such as kaiki or caique, offering a more authentic and rustic sailing experience. These boat tours exude charm and provide a sense of nostalgia as you explore the coastline and nearby islands.
Sunset Cruises around Santorini
Sunset cruises around Santorini typically depart in the late afternoon and offer a front-row seat to witness the sun setting over the Aegean Sea. The glowing hues of orange and pink painting the sky, juxtaposed with the white-washed buildings of Santorini, create a truly mesmerizing sight.
During sunset cruises, you can enjoy a leisurely sail along the caldera, indulge in a delicious dinner or traditional Greek meze (appetizers) on board, sip on local wines or champagne, and take in the enchanting ambiance as the sun dips below the horizon.
Things to know when planning boat tours or sunset cruises in Santorini
Note that availability, prices, and tour options may vary. It depends on the season and the specific tour operator. We recommended you to research and book your boat tour in advance.
Consider the duration of the boat tour or sunset cruise. Some tours are half-day or full-day excursions. Others are shorter evening trips specifically for sunset viewing.
Review the itinerary to ensure it covers the sights and experiences you desire. Do you want to sail along the caldera? Or do you prefer swimming/snorkeling stops?
Always communicate your preferences. Any specific requests allows the tour operator to tailore an enjoyable experience.
Are you planning to visit the Greek Islands?
Discover our luxury villas in Santorini