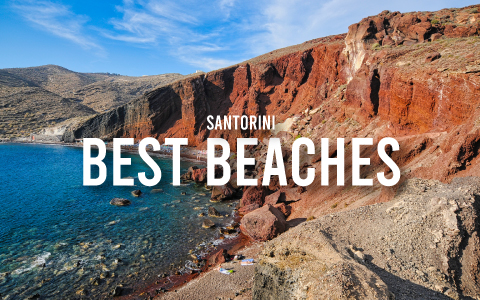 10 of the best beaches in Santorini
Santorini is one of the most beautiful Greek Islands. The stunning caldera scenery, whitewashed towns, blue-domed churches, and wine are just some of the reasons that make it so popular. However, most tourists choose Santorini for the wonderful sea. So here are 10 of the best beaches in Santorini.
BEST BEACHES IN SANTORINI
White Beach
White Beach is on the southern coast of Santorini, near the village of Akrotiri. It is one of the colored beaches in Santorini. Indeed, the beach has black pebbles but it is surrounded by bright white cliffs. Since it is accessible only by boat or on foot from the Red beach, it is quiet and perfect for those who want to escape the crowds. Remember that there are no facilities on this beach.
Red Beach
Close to White Beach is Red Beach, which is more popular and more crowded. It is small but stunning, with the light blue sea and the surrounding high red cliffs. There is a car park a few minutes away, but the beach does not have many facilities. In addition to the beauty of the place, Red Beach is great for snorkeling.
Perissa Beach
At 11 km southeast of Fira, on the southwestern coast of Santorini is the volcanic beach of Perissa. Here the sand is black and the sea is crystal clear. However, the main natural attraction is Mesa Vouno, a giant rock that rises from the water.
Perissa beach is quite long and well developed. It is perfect for swimming, sunbathing, and surfing, but also for nightlife, thanks to the many bars, restaurants, and clubs nearby.
Perivolos Beach
Among the best beaches in Santorini is Perivolos Beach. It is a long black beach connected to Perissa Beach, very popular and well-organized. There, you find everything you need for water sports as well as numerous restaurants and bars. And the water is wonderful! Moreover, despite the people, the atmosphere is usually calm.
Agios Georgios Beach
It is the continuation of Perivolos beach, about 3.5 km from Perissa. If you want the same beauty as Perivolos Beach but with fewer crowds, Agios Georgios is for you. There you will find black sand, a clear sea, high cliffs, and numerous services such as sun beds, sports activities, bars and restaurants
Kamari Beach
Kamari Beach is 8 km southeast of Fira. It is quite similar to Perissa Beach: black sand, crystal clear waters, and many facilities for spending a great beach day.
Monolithos Beach
Monolithos Beach is located near Kamari Beach. It is a long black sand beach surrounded by spectacular cliffs. The peculiarity? It is very popular with the locals. In particular, it is popular with families because it is well organized and the shallow water is great for children. In addition, there are a play area for children, football and basketball courts.
Vlychada Beach
Vlychada Beach is on the southern coast of Santorini. It is a long and well-organized beach. Its beauty comes from a set of different elements. First, the natural setting, with the gray sand and bizarre rock formations behind it. In addition, there are two large chimneys of an old factory now closed. You might think these remains are bothering the view, but they actually make Vlychada Beach unique.
Katharos Beach
On the northwestern coast of the island, about 1 km from Oia, is Katharos Beach. This area of Santorini is less touristy, so the beach is never crowded. Furthermore, it is difficult to reach: the only way to get there is by taking a steep path. This makes it one of the most secluded beaches in Santorini. Katharos Beach is surrounded by rocks and cliffs and there are no services, except a bar and a parking lot. Sometimes, the wind can make the sea rough. In short, Katharos Beach is for those looking for a wild place.
Calderа Bеach
Among the best beaches of Santorini, we want to include Caldera Beach.
This beach north of Akrotiri is very small. However, there you can admire a spectacular view over the Caldera, the islands of Thirasia, and the villages of Fira and Oia. There are also a few taverns to try local cuisine.
Are you planning a holiday on Santorini?
Discover our accommodations on the island