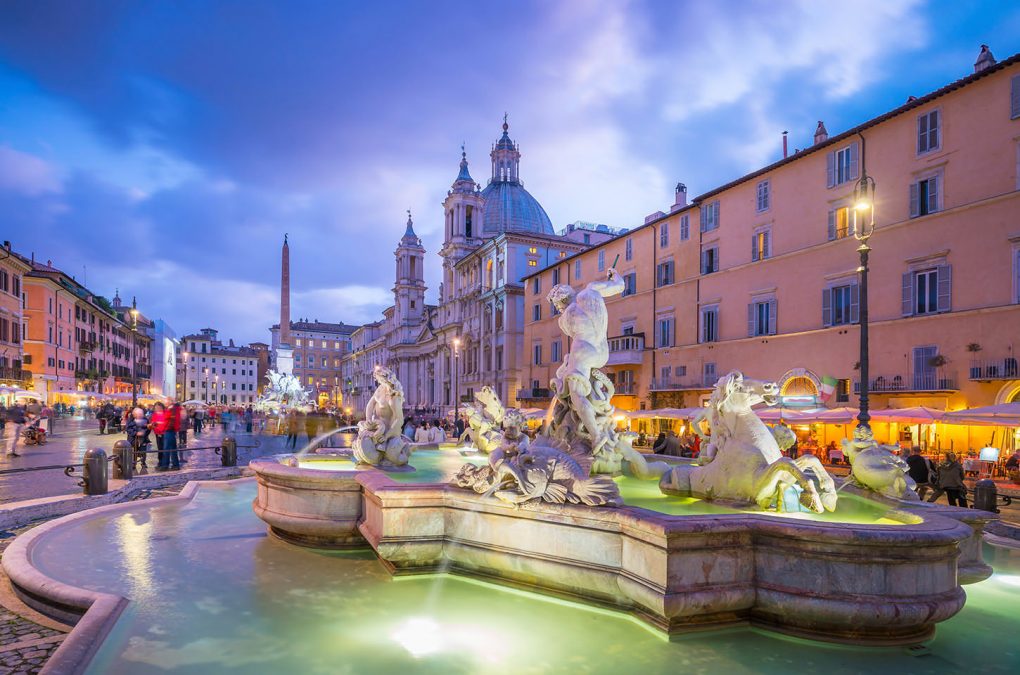 Christmas Market in Rome
From the end of November Rome is filled with lights and Christmas decorations and thecloser you get to Christmas, the more special events are hosted in thecity. Among those, the Christmas markets in Rome are a good chance toenjoy the beauty of the city, the festive atmosphere and finally find some nicepresents. On the countless stands you can find handicrafts or typical products,and every market has its own peculiarities.
Let me tell you something more about some of them.
Christmas market in Piazza Navona
Located in the historic center, Piazza Navona is one of the most popular squares in Rome. During December and January, the square is home to one of the largest and most visited Christmas markets in the city.
The wonderful Bernini fountain and the buildings around are the background of stalls selling toys, decorations, nativity scenes and food. You can find everything, from small handmade treasures to the most tacky objects.
The Piazza Navona Christmas Market gives its best on the Day of the Epiphany, also known as the day of the Befana. The Befana is an Italian folkloristic character that looks like an old lady, riding a flying broom. She brings gifts to the children during the night of the Epiphany, putting them inside the socks that children left somewhere in the house. When they woke up they usually find the socks full of candies. But the quality of the gifts depends on how the children have behaved: if they've been good they receive candies, if they've been bad they receive pieces of charcoal. Obviously it is not real coal, but colored sugar that looks like it.
Christmas market in Piazza Re di Roma
The market of Piazza Navona is visited by tons of tourists and residents.
If you do not like the confusion and you want to spend some time in a more peaceful place, you may prefer the Christmas market in Piazza Re di Roma.
Although small, this market has stalls packed with gifts, foods and other products. Moreover, in Piazza Re di Roma they usually set up an ice skating rink.
It's quite a unique experience to ice-skate in Rome, surrounded by Christmas music and light decorations.
From St. Peter's Square to Castel Sant'Angelo
If you're in Rome at Christmas you must go to St. Peter's Square, the center of Christianity.
Regardless of your religion, the possibility of listening to the Pope's Mass is something unique. Furthermore, the St. Peter's Basilica and the square are really grandiose.
At Christmas St. Peter's Square is embellished with a giant decorated Christmas tree and a nativity scene.
This year the nativity scene of St. Peter's Square will be made of sand coming from Jesolo, the most popular beach near Venice.
1300 cubic meters of sand will be worked by 21 international artists who will create a bas-relief of 16 m in length, 5 m in height and 6 m in depth.
Once you've seen the sand nativity, you can reach the imposing Castel Sant'Angelo, walking along the Tiber river.
Near Castel Sant'Angelo there are stalls all year round. They usually sell small souvenirs and some typical products, and during the Christmas time they turn into a real Christmas market.
The strong point of this Christmas Market in Rome are the views, especially in the evening. Buildings and monuments are floodlit and Christmas decorations make everything more magical.
The Mercato Monti during Christmas
The Mercato Monti is a market open almost all the year and it is popular among the residents. During Christmas season, the number of sellers doubles.
The residents usually go there for the shopping and, of course, for Christmas presents.
The stalls displays creations of artisans, designers, stylists, innovators and inventors.
The Mercato Monti is worth a visit if you like 'Made in Italy' products, or if you want to blend with Italian people and discover what kind of products and gifts they buy. Maybe you could get inspiration to find something special for your loved ones.
Remember that the Mercato Monti market is open only on the weekends.
Christmas at Eur
Eur is a district of ​​Rome outside the center that was created during the 30s to host the Universal Exposition of 1942 that never happened.
It is a fascinating neighborhood. There are imposing buildings, with a massive and squared architecture, mostly constructed of white marble. The most famous is the Palazzo della Civiltà e del Lavoro (Palace of Civilization and Work), also known as the Square Colosseum because of its square shape and the arches that recall those of the Colosseum.
Eur has its own calendar of Christmas events, with flea markets and entertainment. I decided to mention Eur in this article because of the Village of Christmas that it is usually set up inside LunEur, the oldest amusement park in Italy.
I though it could be a nice experience if you have children and you want them to spend some time surrounded by elf and reindeer and snowflakes, looking for Santa Claus..
The Etsy Christmas Market
You know Etsy, don't you? Here is a brief summary.
Etsy is an e-commerce in which users/sellers can only sell handicrafts or vintage things. It's a sort of Amazon of craftsmanship!
Well, in Rome, for two days, there is a Christmas market that brings together 21 local Etsy artisans. You can meet them in person, attend to workshops and, of course, buy their gorgeous products.
It's the Christmas market in Rome in which you will surely find the gifts with the best quality, from clothing to accessories, from toys to decorations. All handmade or vintage!
Clearly there are many other Christmas markets in Rome. The city is big and there is much to see and do. As I always say, the best thing to do is getting lost in the streets and discover by yourself what's hidden behind the corner. All the Christmas markets, with their stalls, decorations, traditional music and scents of sweets, make Rome even more enchanting.
We have exclusive accommodations available in Rome. Check out our website!
Do you want to spend your holiday in Italy ?
Discover our accommodationsin Rome