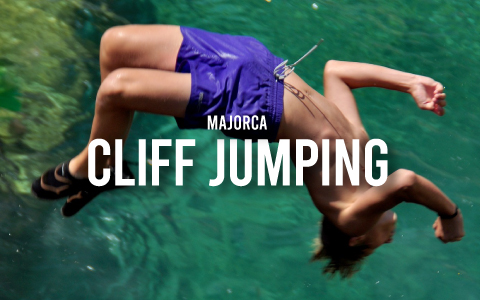 Cliff jumping in Mallorca: the best spots
Looking for an adrenaline rush? Check out the best spots for cliff jumping in Mallorca!
These locations are perfect if you are looking to take a leap of faith and enjoy a heart-pounding experience. From secluded coves to dramatic cliffs, we have you covered.
So get your swimsuit on and prepare to jump into the unknown! But first…
What is cliff jumping?
Cliff jumping is an extreme sport that involves leaping from a tall natural or man-made structure into the water below. It can be done solo or in groups.
Why do people cliff jump? For different reasons. Some people do it for the adrenaline rush, while others enjoy the challenge of reaching the bottom. Still, others simply enjoy the feeling of jumping into the water from a great height.
How to cliff jump safely
Cliff jumping can be dangerous if not done properly.
If you are going to try for the first time, choose a spot that is safe to jump from and make sure to check the depth of the water before you jump. In fact, shallow water can lead to serious injury.
Also, be aware of any obstacles in the water that could hurt you upon impact.
Jumping from a great height can also be disorienting, so make sure you know where you are going to land before you take the leap.
Finally, always have someone with you when cliff jumping in case of an emergency.
And now that you know the basics, here are the best spots for cliff jumping in Mallorca!
5 of the best spots for cliff jumping in Mallorca
There are many great cliff jumping spots in Mallorca, but -for us- five stand out above the rest.
Cala Murta
This secluded cove is located in the northeast of Mallorca and is only accessible by boat. But don't let that deter you, as it is well worth the effort to get there. The cliff faces are about 25 meters high and offer stunning views of the Mediterranean Sea. There are also a few platforms to choose from, so you can find the perfect spot to take the plunge.
Cala Figuera
This picturesque cove is located in the southeast of Mallorca and is a popular spot for swimming and sunbathing. The cliffs here range from about 15-20 meters high, making them perfect for those who are looking for a less daunting jump. And if you're lucky, you might even spot some dolphins swimming in the distance!
Cap de Formentor
This is one of Mallorca's most popular tourist spots and for good reason. The dramatic cliffs here face the open sea and offer stunning views of the coastline. The jumps here range from about 20-30 meters, so it is definitely not for the faint of heart. But if you're up for the challenge, this is the place for cliff jumping in Mallorca!
Cala Llombards
This is another secluded cove located in the south of Mallorca. It is known for its clear turquoise waters and is a popular spot for snorkeling and diving. The cliffs here range from about 15-20 meters. And once you are tired of cliff jumping, relax with one of the excellent cocktails at the beach bar.
Cala Varques
This is one of the most scenic spots for cliff jumping in Mallorca. The beach is fantastic, the wonderful ones. But what makes it special is a stone arch from which you can get yourself into the turquoise water.
So what are you waiting for? Grab your swimsuit and head to Mallorca for some cliff jumping fun!
Do you want to cliff jumping in these spots?
Discover our villas on Mallorca!