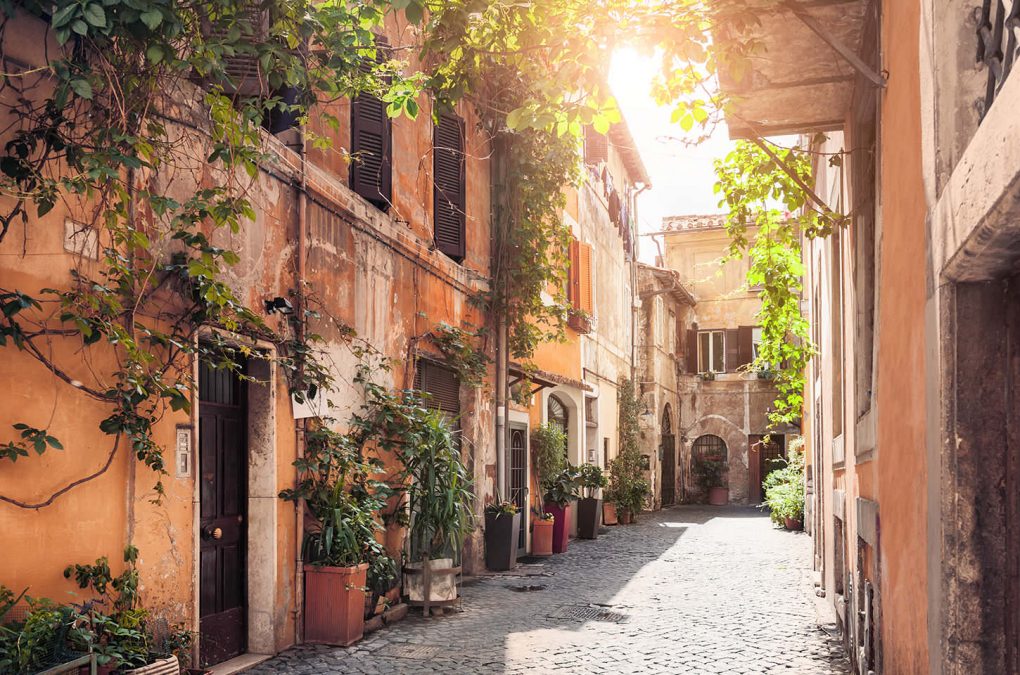 Discover Trastevere
the most authentic neighborhood of Rome
Trastevere is the most authentic district of Rome, the one where you breathe the true essence of this city.
During the daytime it's nice to get lost in the maze of cobblestones alleys and discover all the beautiful views hidden behind the corners.
And at night, this district become the heart of the Roman nightlife.
Trastevere has a long story behind.
Its name comes from the Latin 'Trans Tiberim', that is, beyond the Tiber, since the first settlement of Rome was on the opposite bank of the river. During the Middle Ages, the population of Rome dropped and the area was abandoned. In more recent times it became a working-class residential area. This evolution transformed Trastevere into what it is today: a medieval-looking district with a folkloristic spirit and a great nightlife.
The thing I like most of Trastevere is precisely the fact that it can be a good place to spend both day and night.
During the day I suggest you to wander around without a specific itinerary. Let Trastevere show what it has to offer!
For example, its churches. They are a concentrate of art and architecture. In my opinion, the most beautiful one is the Basilica of Santa Maria. The external appearance could make you think of a church not so special, but inside it is an explosion of decorations and mosaics. The best time to visit it is at the sunset, since the light enhances the gold of the mosaics on the exterior facade.
Right outside this church there is a fountain that is said to be the oldest in Rome.
Not far away is the Colle del Gianicolo, where you can have a wonderful view on Rome and attend the ceremony of the cannon shot that marks the noon.
At night Trastevere is full of opportunities.
Every square and alley is packed with tables and people chatting. Flea markets, musicians and street artists entertain the passengers, while the aromas of the good Italian food comes out from the many restaurants. I love how the atmosphere is cheerful and relaxed!
But if you want to live Trastevere at its best, you have to spend your night out like a real Roman. What does it mean? You should start with the aperitif at about 7.30 pm. Then gobble up a typical dinner in a trattoria like "Da Teo", where the portions are abundant. Finally, at the end of the night, enjoy a freshly baked night-time croissant before going to bed.
Rome is so beautiful! Attractions such as the Colosseum or the Trevi Fountain are unmissable, but the capital of Italy has much to offer also outside the most popular tourist routes. Trastevere is the best example for me. Traffic, chaos and people are not lacking, but it's the place to come if you want to discover the true heart of Rome.
Do you want to spend your holiday in Italy ?
Discover our accommodations in Rome