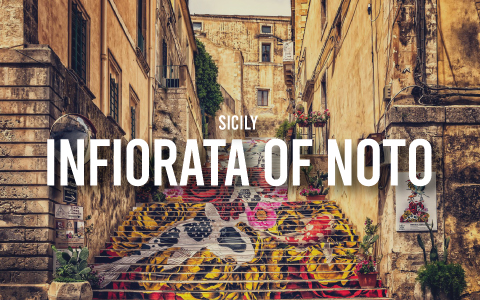 Sicily is famous for its beaches and islands, such as Favignana. But there are many cities and events that it is worth discovering. One of them is the Infiorata di Noto.
WHAT IS INFIORATA DI NOTO
From May 13 to May 17, 2022, Sicily will host the 43rd edition of the Infiorata of Noto.
During this event, floral artists carpet Via Nicolaci, a long avenue in the heart of the city of Noto, with a huge and elaborate floral carpet.
Every year the Infiorata of Noto takes place on the 3rd Sunday of May and has a different theme. For 2022 the theme is the 20th anniversary of the inscription in the World Heritage List.
Each floral artist (or group of artists) has a square of street pavement on which to recreate elaborate drawings using only flower petals.
Taken together, the floral designs cover 700 square meters, and require around 400,000 flowers, mostly daisies, roses, carnations and wildflowers.
Visitors can admire the floral works by walking along the avenue (the ticket costs 2,50€). Although the best location is from one of the many balconies overlooking it.
In addition to the flower carpet, the Infiorata di Noto includes markets where you can find typical Sicilian products, and collateral events such as the parade of flag-wavers and the Baroque Procession.
Furthermore, it is an excellent opportunity to visit Noto and discover its Baroque architecture.
THE CITY OF NOTO
The city of Noto is defined "the Capital of the Baroque". In 2002 its historic center become a UNESCO World Heritage Site, together with the other cities of the Val di Noto (Caltagirone, Ragusa, Catania, Scicli, Modica, Palazzolo Acreide and Militello Val di Catania).
The origins of Noto are very ancient, but an earthquake completely destroyed it in 1693. What we see today is the subsequent reconstruction.
But, this reconstruction didn't follow only practical aspects. On the contrary, the most brilliant artists came to Noto from all over Sicily to design it as a theatre setting. They put great effort into studying perspectives, choosing the best places to get the wow effect, building wonderful Baroque palaces.
Just to give you an example, the position of the three main roads is not random. They run from east to west, so that the sun can always shine on them.
Porta Reale, Palazzo Nicolaci and the Cathedral are just some of the main tourist attractions in Noto.
Are you planning to visit Noto?
Discover our accommodations in Sicily