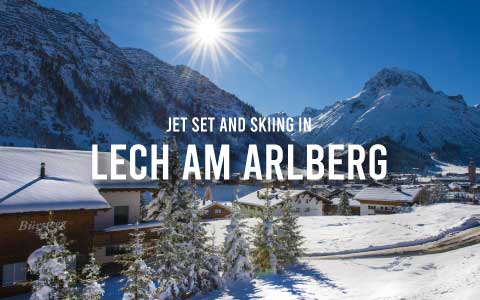 Jet set and skiing in Lech am Arlberg, Austria
People who love winter sports may already know Lech am Arlberg, Austria.
This village is located in the westernmost Austrian state of Vorarlberg and it is surrounded by the majestic Alps.
Even if it is a small village, with a population of less than 1600 people, Lech has become quite popular among the international jet set, particularly the European royal families and other wealthy people.
Skiing in Lech am Arlberg
Lech am Arlberg is considered one of the most renowned ski destinations in the world.
This is due to the a couple of peculiarity.
First of all, the beauty of the mountain range Arlberg.
The village is one of the members of "Best of the Alps", an association that unites and gives value to 13 of the most beautiful alpine destinations.
It is possible that you've already seen this beauty even if you haven't been there, since the mountain holiday scenes in the movie "Bridget Jones' Diary 2" were shot there.
Second of all, the Arlberg region is where the modern Alpine skiing was born and one of the most extensive connected ski areas in Austria and Europe. Lech itself is connected to the neighbouring villages, such as St.Anton and St. Christoph,  through a network of mechanical lifts and ski facilities.
Both factors make Lech and its surroundings a great spot for those who love skiing, both on-piste and off-piste. They can find a lot of opportunities for having fun!
Lech is also the starting and finishing point for the White Ring, the longest ski circuit in the world with 22 km of ski runs. 
Cultural attractions
Is Lech am Arlberg all about skiing? Not exactly.
This alpine village was founded in the first half of the 14th century, therefore there are some cultural attractions that are worth a visit. For example: the gothic church of St Nicholas (1390) or the museum of the Huber House (1590).
For those who like art and nature, the Skyspace Lech by James Turrell (2018) is an art installation from where visitors can gaze at the changing color of the sky from a hole in the ceiling.
Do you want to spend your holiday in Austria ?
Discover our accommodations in Lech am Arlberg