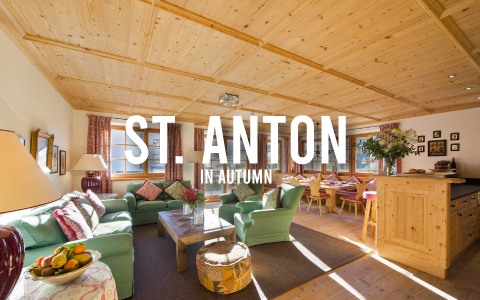 Embracing Autumn's Splendor: A Journey to St. Anton am Arlberg
In the breathtaking Austrian Alps, St. Anton am Arlberg is a haven for outdoor enthusiasts and nature lovers alike. While winter is the season that typically steals the spotlight in this picturesque village, visiting in November unveils a different kind of magic. In this blog post, we'll delve into the unique charm of St. Anton during autumn and why November holds its own special allure.
7 Reasons to Visit St. Anton am Arlberg in November
1) The Kaleidoscope of Autumn Colors
As you step foot in St. Anton am Arlberg in November, you're greeted by a symphony of colors that paint the landscape in vibrant hues. The mountainsides transform into a patchwork of golden yellows, fiery oranges, and deep reds, creating a visual feast that's nothing short of awe-inspiring. The crisp mountain air and the scent of fallen leaves add an invigorating touch to your senses, making every hike, walk, or simply a moment of contemplation an unforgettable experience.
2) Trails and Hiking Routes
The beauty of St. Anton in autumn lies in its extensive network of hiking trails. Whether you're an avid hiker seeking a challenging ascent or a leisurely stroller looking for a picturesque walk, there's a trail for everyone. One of the must-visit routes is the Lechtal Nature Park Trail, which takes you through pristine forests, along crystal-clear streams, and offers breathtaking views of the Lechtal Alps. Another gem is the Verwall Runde, a circular trail encompassing alpine meadows and serene lakes.
3) The Serenity of Fewer Crowds
One of the most compelling reasons to visit St. Anton in November is the blissful lack of crowds. Unlike the bustling winter months, the village exudes a tranquil charm, allowing you to explore its hidden treasures at your own pace. You can savor moments of solitude on the trails, revel in the stillness of the mountains, and truly immerse yourself in the natural wonders that surround you.
4) Culinary Delights and Local Flavors
Autumn is a time of harvest and celebration in St. Anton. Local restaurants and eateries take pride in crafting delectable Austrian dishes using fresh, seasonal ingredients. From hearty stews infused with local herbs to succulent game dishes, every meal is a journey through the rich flavors of the region. Don't forget to pair your meal with a glass of renowned Austrian wine, as the vineyards in the area boast their own autumnal splendor.
5) The Arlberg Wellness Experience
After a day of exploring, there's no better way to unwind than with a visit to one of St. Anton's world-class wellness centers. The local complex offers a holistic experience, with state-of-the-art spa facilities, relaxing saunas, and rejuvenating treatments. The combination of crisp mountain air and indulgent spa therapies creates a perfect harmony for both body and soul.
If you prefer something more intimate, many of our chalets for rent in St.Anton am Arlberg have private spas and saunas
6) Engaging Local Culture
Visiting St. Anton in November also provides a unique opportunity to immerse yourself in local traditions. Many festivals and events take place during this time, celebrating the rich culture and heritage of the Arlberg region. From lively village markets to traditional music performances, you'll have the chance to connect with the warm-hearted locals and gain a deeper understanding of their way of life. And don't miss the opportunity to visit the villages nearby, such as St. Christoph am Arlberg or Lech.
7) The Promise of Early Snow
While November might be considered an autumn month, in St. Anton, it offers a tantalizing hint of the winter wonderland to come. The higher altitudes often receive their first dusting of snow, transforming the landscape into a surreal blend of autumnal splendor and wintery magic. This early glimpse of the forthcoming ski season in St.Anton adds an extra layer of excitement to your visit.
So, pack your hiking boots, bring your appetite for adventure, and prepare to be captivated by the autumnal embrace of this Alpine wonderland. St. Anton in November is a symphony for the senses, a place where nature's beauty takes center stage, and memories are etched in the heart forever.
Are you planning to visit the Arlberg Region?
Discover our luxury chalets in St. Anton am Arlberg