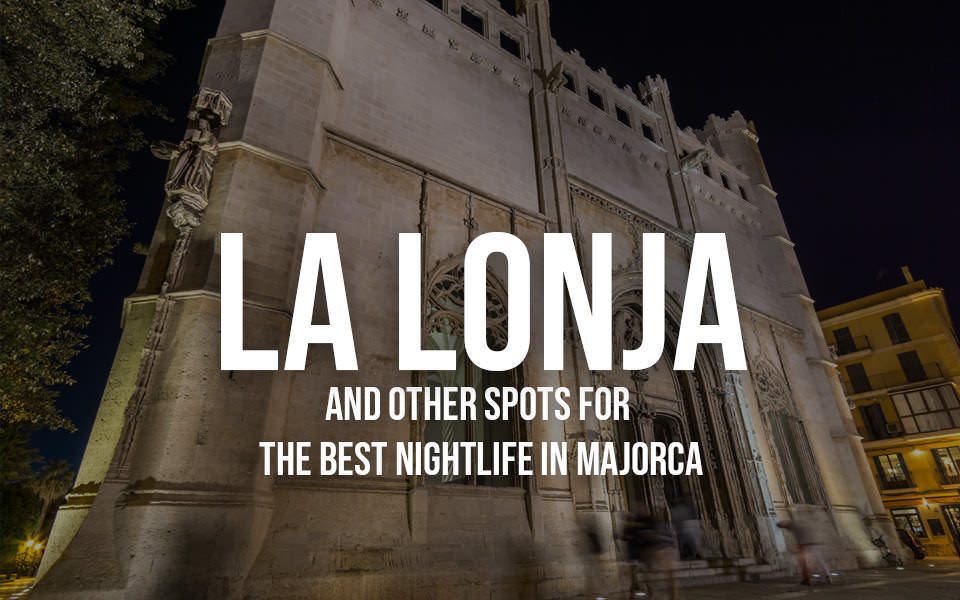 La Lonja and other spots for the best nightlife in Majorca
La Lonja is one of the most popular areas in the Old Town of Palma de Majorca and is the perfect place for your summer evenings. Actually, I find that this neighborhood is beautiful to visit even during the day.
I love Majorca because it combines enchanting nature, culture and nightlife and La Lonja is a good example of what this island has to offer.
Palma old town
The old part of the town of Palma de Majorca is known as 'El Casco Antiguo' and is where you can find most of the main tourist attractions, such as the 'La Seu' Cathedral, the Royal Palace of Almudaina or Es Baluard Contemporary Art Museum.
The Old Town is a maze of narrow streets with picturesque buildings and suggestive places where you can take great photos, but there are also antique shops and luxury boutiques.
I personally suggest you to leave the map at home and just get lost to find by yourself what's behind every corner.
The thing I like most about this area of ​​Palma de Majorca is the mix of architectural styles that can be observed: from Gothic to Baroque, from Roman and Arabic influences to examples of Catalan Modernism.
La Lonja
La Lonja was the maritime trade exchange, not operating anymore, which gave its name to the surrounding area. It is one of the most appreciated neighborhoods of Palma de Majorca due to the presence of restaurants, bars and clubs.
The building that hosted the maritime trade exchange is a nice attraction too.
It was built between 1426 and 1447, and is now used for exhibitions since the interior space is really large and can easily accommodate works of art, even those of large dimensions.
I find it really enchanting.The facades have high walls, battlements, gargoyles, windows with evident Gothic architecture and octagonal towers. It's worth a visit, especially when there's no exhibition and you can enjoy the huge interior.
In the neighborhood of La Lonja it's easy to find the right place for drinking and eating.
The heart of La Lonja's nightlife is Apuntadores. This main road is full of life, people and bars where you can stop! However, don't miss the secondary roads: they often host restaurants or shops that are real hidden treasures.
One of La Lonja's most unmissable bars in is Abaco Cocktail Bar.
This place is famous throughout the world and loved due to its truly bizarre interiors.
Columns and statues, baskets of flowers and fruit, plants, warm colors and candles decorate the patio and the entrance, creating a Mediterranean atmosphere.
In the garden there is a fireplace and a large staircase leads to the upper floor where there are other rooms furnished with copies of old paintings and period furniture.
The loud classical music contributes to the atmosphere.
It's a magical place, even though someone might find it kitchy and a little expensive. In any case, it is one of those places where it is worth spending time, at least to say to friends  "I've been there during my holiday in Majorca!"
Other spots in Palma
Besides La Lonja there are other places in Palma de Majorca where you can find bars and clubs to spend lovely evenings.
For example, Paseo Maritimo is a wonderful promenade flanked by palm trees that runs parallel to the seafront. It is only open to pedestrians and bicycles, so it is perfect for relaxing, but also for meeting people.
In the evening the music bars and nightclubs brighten up the area, which becomes the ideal place for a cocktail or for dancing. There are also restaurants with beautiful views of the harbor where super yachts are moored.
Another spot is Santa Catalina, an ancient neighborhood that is right next to Paseo Maritimo. It houses a variety of places to eat, drink or dance. Its market, called Mercat de Santa Catalina, is worth a visit during the day. It was built in 1920 and is Palma's oldest food market.
It's easy to have fun in La Lonja and Palma de Majorca: there are so many places for enjoying the great island's nightlife.
Do you want to spend your holiday in Mallorca ?
Discover our accommodations in the Balearic Islands