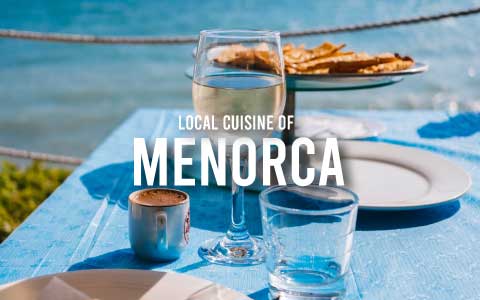 The beautiful rocky island of Menorca is one of the most popular tourist destination in Spain along with its bigger sister Mallorca. In addition to its unspoiled nature and the charming towns, the local cuisine is also worth exploring.
The cuisine of Menorca is influenced by the Mediterranean climate, the sea, the salty air, the small-scaled agriculture and the heritage of various invading people, such as the Arabs and the English.
As for the other Balearic Islands, seafood and fish are the main ingredients also in Menorca, along with legumes, vegetables, nuts and meat (chicken, rabbit, pork and beef).
In this blog post we want to suggest you just some of the many typical dishes and local products of Menorca that you should definitely try.
THE LOCAL CUSINE OF MENORCA, TYPICAL PRODUCT AND DISHES
MAYONNAISE
We are sure you are already know mayonnaise, the sauce made of fresh egg and lemon juice. What you may not know is that its origins are not certain and more than one legend has it that it was invented in Menorca. The name mayonnaise probably derives from Mahon, the capital of Menorca.
MAHON CHEESE
Mahón cheese is a white cheese made from cow's milk.
The salty flavor is due to the fact that the grass that cows eat is full of sea salt carried by the wind.
During the maturation process, the cheese is rubbed with butter and paprika, that gives its typical orange color.
The younger Mahón cheese is soft and mild, while the aged one is harder and crumblier.
ALBONDIGAS DE CABRACHO AND OTHER FISH MEATBALLS
Fish and seafood in Menorca is cooked in various ways — in pots, in the oven, in the form of pies, with rice and also as meatballs served with sauce.
Cabracho meatballs are made of scorpion fish and are sometimes accompanied by a rich tomato sauce.
TUMBET
This typical dish of the local cuisine of Menorca is prepared with fresh potatoes and other vegetables such as aubergines, peppers, onions, garlic and bay leaves. The mixture is then lightly fried in oil.
OLIAIGU
Oliaigu is usually prepared in the summer. Its name means 'Oil and Water' and it is a soup made with fresh tomatoes, green pepper, onions, garlic, olive oil, salt and water. It's served with slices of toasted bread and ripe figs.
ARROZ DE LA TIERRA
Even thought the name means 'Rice of the Land' there is no rice in this dish but wheat, which is crushed in a mortar and baked with sausages. In a certain way it resembles the couscous.
SOBRASSADA AND OTHER CURED SAUSAGES
The sobrassada is a spreadable pork sausage with paprika.
Although sobrassada is considered typical of Mallorca, it is also popular in Menorca and the other Balearic islands.
The carnixulla is a cured pork sausage with pieces of bacon. It is one of Menorca's oldest-known sausages and dates back to Roman time.
CALDERETA DE LANGOSTA
This lobster stew is probably the Menorca's most famous dish. The lobster is cooked in a sauce made of tomato, onion and garlic sauce. It is usually with fresh bread.
CREMA CATALANA
It's like a Crème Brûlée with a custard base and a burnt sugar top, often homemade in many restaurants.
PASTEL O PASTELITOS
Under the name of Pastel or Pastelitos are many cakes layered with cream, custard, chocolate, meringue and more. Each of them has its own combination.
THE CRESPELLS OF MENORCA
These cookies are shaped like flowers with twelve petals. They are covered with fine sugar and stuffed with jam or with cottage cheese and lemon. A round hole let you see what's inside. These respells are different from those in the other Balearic islands.
WHAT ABOUT DRINKS?
Drinks like the Calent, the Estomagale or the Frigola are infusions or liqueurs based on herbs and spices. But on the tables of the inhabitants of Menorca there is no shortage of other drinks like gin and digestives.
Try the "Sengri", which is like a hot punch with aromatized wine. Even though the name is similar, it has nothing to do with the famous Spanish sangria.
The "Ratafia" should also be mentioned. This liquor is made by soaking different herbs, such as carnation, cinnamon and lemon bark, in Aguardiente (alcoholic beverage) for eight days.
Do you want to visit Menorca?
Discover our luxury villas on the island