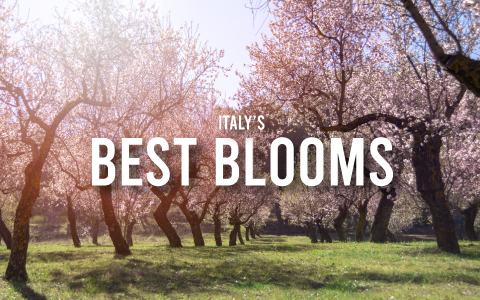 THE MOST BEAUTIFUL BLOOMS IN ITALY
There are few places on earth as breathtakingly beautiful in springtime as Italy. One reason is that the country has some of the most gorgeous blooms around during this time of year. From roses and freesias to poppies and irises, here are the 8 must-see beautiful blooms in Italy that you won't want to miss this year.
8 of the most beautiful blooms in Italy
Bougainvillea on the Amalfi Coast
The vivid pink and purple petals of the bougainvillea stands out from the magnificent coastal backdrop of the Amalfi Coast. This abundant flower's vibrant colors make it a spectacular sight during springtime.
Almond trees in Sicily
The Sicilian countryside is a sight to behold in the springtime when its almond trees are in full bloom. A carpet of white and pink petals blankets the landscape, giving it an ethereal quality.
Irises on Lake Como
The shores of Lake Como come alive with colorful irises during this season. From purple and blue to yellow and white, these stunning flowers blanket the lake's banks creating a spectacular display of beauty.
Sunflowers in Tuscany
It's no surprise that Tuscany is home to some of the most stunning sunflowers in Italy. From vibrant yellow petals to subtle brown seed centers, these blooms create a picturesque scene as they blanket the rolling hills.
Lavender in Piedmont
Near Cuneo there is an area called the Provence of Italy because of the large number of beautiful lavender fields. The fields with purple and pink flowers create an explosion of color during springtime and the aroma is absolutely intoxicating.
Camellias near Lucca
In the mild climate near Lucca, these delicate pink and white blooms are a sure sign of spring. As they blossom and their petals start to fall, it's easy to see why camellias are one of Italy's favorite flowers.
 The brooms of the island of Elba
This tiny island in the Tuscan Archipelago is home to some of Italy's most beautiful brooms. The yellow and pink petals create a vivid contrast against the cobalt-blue sea making it one of the prettiest places to visit during springtime.
Roses in Rome
The Eternal City is also known for its abundance of roses that bloom year-round, but they are particularly stunning in the springtime. From classic white blooms to vibrant red roses, these flowers provide a pop of color to Rome's already stunning landscape.
The many flowers of Liguria
The most beautiful blooms in Italy that we have just mentioned are spontaneous blooms. However, there is one region in Italy that is world-famous for its cultivated flowers. It is Liguria.
The Ligurian Riviera is a must-visit not only for cities like Genoa or Cinque Terre, but also for flowers. With its mild climate and abundance of sunshine, this picturesque coastal region provides ideal growing conditions for these gorgeous blossoms.
But there is more. Floriculture in the Ligurian Riviera has become a popular industry over the years, with many flower farms cultivating roses, freesias, and other gorgeous blossoms.
From the simplest daisy to the most exotic species, these flower farms offer visitors a breathtaking display of colors and scents that you won't soon forget.
Do you want to see the beautiful Italian flower blooms??
Book a stay at one of our luxury villas in Italy