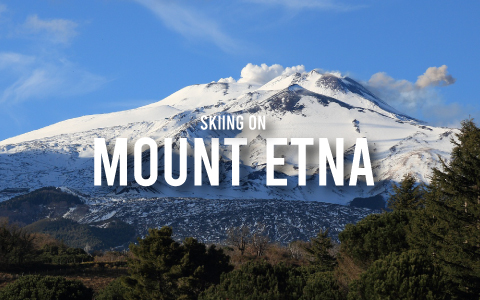 When one thinks of Sicily, the first things that come to mind are the Mediterranean Sea, certainly not snow. Yet skiing in Sicily is possible! At 3,357 m, Mount Etna is not only a the highest peak on the island but also a ski destination. Amazing, isn't it?
About Mount Etna
Mount Etna is a giant volcano on the east coast of Sicily, in between the cities of Catania and Messina. Its base covers an area of around 1,190 km2 – making it one of the most impressive natural wonders of the world. Indeed, it is the largest active volcano in Europe and has huge craters at its top which erupt several times a year. Despite this, people can climb Mount Etna, and many local guides organize tours up to the craters.
Because of its height, the summit is covered with snow in winter, which makes possible one of the most incredible things, namely skiing in Sicily, or rather, skiing on an active volcano!
Skiing on Mount Etna
What makes skiing in Sicily so special is the unusual setting of Mount Etna, with thousands of acres of pristine countryside stretching out in every direction and the sea just a few kilometers away. At the top of the volcano the landscape is barren but colorful. Here, the black of stone, the blue of the sea, the green of the woods, the yellow of sulfur, and the white of snow mix together in a kaleidoscope of wonder.
The skiing season on Sicily's volcano normally starts in November and can last until May. The snow coverage is usually good, as the area is subject to regular snowfalls throughout the winter months.
Within Etna Nature Park there are 17 km of slopes, suitable for all skill levels. Among the ski resorts, we have Piano Provenzana-Linguaglossa (north) e Nicolosi (south). Nicolosi is the largest ski area, reaching an altitude of 2700 meters, with red and blue slopes. Piano Provenzana includes red and two blue runs downhill and is ideal for Nordic skiers because of the scenery.
About Sicily
Although skiing in Sicily is becoming very popular, the island is a pure summer tourist destination. In fact, its position south of Italy and east of Tunisia is the reason for the warm climate and the great beaches!
But since Sicily has been subject to many foreign influences over its long history, its cities and culture are diverse and fascinating. Siracusa, Noto, Cefalù, Palermo, and Marsala are just a few examples of cities that are worth a visit!
Are you planning to visit Mount Etna?
Discover our luxury holiday homes in Sicily