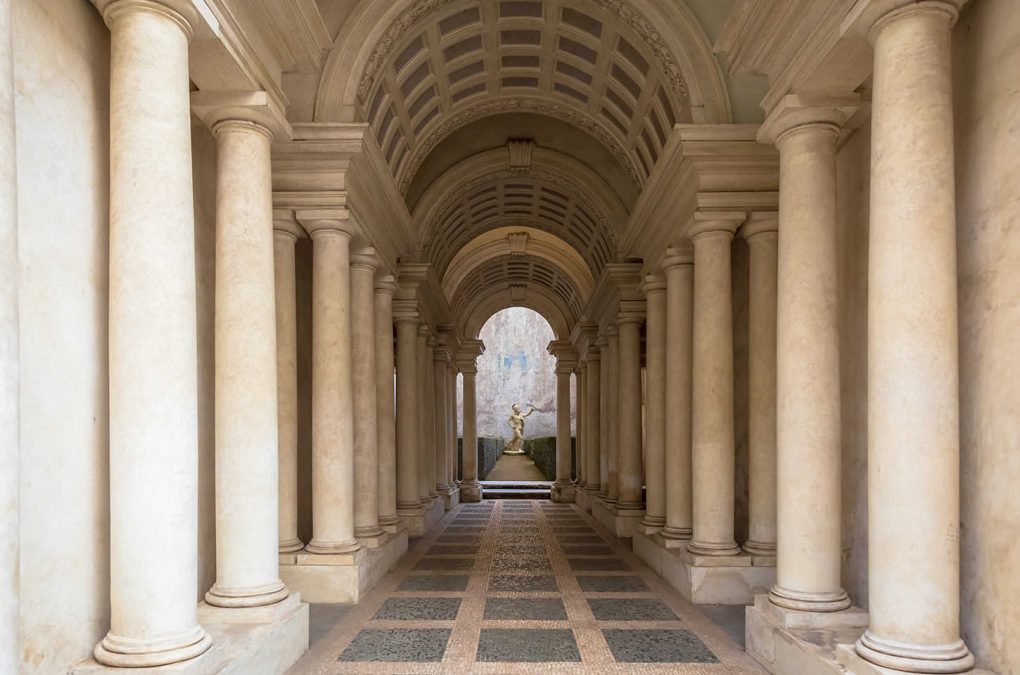 Optical illusions in Rome
"Optical illusions in Rome? Guido, what are you talking about?"
My friend, you already know that Rome is an amazing city. There are so many places, buildings, ancient ruins and artworks to visits!  What you probably don't know is that some of these attractions have something magical.
They can fool you.
Among the many artists who stayed in Rome during the centuries, some applied their talent to create things that are not what they seem. They have created optical illusions.
The capital of Italy can leave you speechless for many reason, and I think that after reading this article you'll probably update your "Place to Visit" wish list.
Let me unveil 3 optical illusions in Rome that you have to visit during your holiday.
1) GALLERIA SPADA
I think this is the most famous of all the optical illusions in Rome.
Galleria Spada was built in 1653 by Francesco Borromini and is located inside the garden of Palazzo Spada, currently the seat of the Council of State.
It looks like a nice corridor, about 35 meters long, leading to a statue of Mars.
At first glance everything seems normal.
Nothing spectacular, I must confess.
If you are going to visit it, your tourist guide will show you the trick.
Entering the corridor she'll get bigger and bigger, and once she reaches the statue of Mars she will look gigantic, while the statue will look tiny.
How is it possible?
Borromini built it according to specific perspective rules. The gallery walls, the ceiling and the floor all converge towards a single point, making the space looking larger than reality.
In fact, the tunnel entrance measures 5.8 X3.5 meters, while the exit is 2.45 X 1 meter. And it is only about 8 meters long!
The optical effect is reinforced by the small statue of Mars, which is only 80 cm high.
For those who aren't aware of the trick, the surprise is great! But even those who are aware will have a lot of fun.
2) THE DOME OF SANT'IGNAZIO CHURH
As soon as you enter the church of Sant'Ignazio, you will discover an astonishing building. In particular, the ceiling with all those decorations and that deep central dome will capture your attention.
If you are going to just watch the ceiling the threshold before going out, you are going to waste the chance to discover the magic.
All you have to do is start walking.
As you proceed, the dome looks more and more distorted.
Once you are underneath you'll see it is actually flat!
Damn! It looked so real!
This second optical illusion in Rome has a particular story behind it.
Because of some technical problems, the planned dome was never built. The artist Andrea Pozzo didn't want an incomplete church, so he decided to paint a fake dome with the technique of the trompe-l'oeil technique.
This optical illusion allows you to perceive a three-dimensional dome only if you look at the ceiling from a certain point marked on the pavement of the church.
3) THE ANAMORPHIC FRESCO AT TRINITA' DEI MONTI
Next to the Church of the Trinita dei Monti is the Convent of the Sacred Heart. It was completed in 1570 and managed by the French fathers of the Order of Minims.
I'm quite sure that the Convent is open only by appointment, but if you are lucky enough to visit it you will discover a truly amazing detail.
Entering one of the upper galleries of the cloister you will see, on the left wall, a large fresco depicting a tree and, further on, San Francesco da Paola. The figure of St. Francis will appear to you perfectly proportioned.
The particular thing is that, as you proceed along the corridor, the painting will become more and more distorted. When you finally look at it in frontal position, instead of St. Francis there is a bucolic landscape, with hills, boats, grass …
You'll probably walk up and down the corridor several times to admire this cool anamorphic fresco, painted in 1642 by Emmanuel Maignan.
It will leaves you speechless, as it is a wonderful example of human talent!
Another interesting detail about this optical illusion is its size. It is 20×3.5 meters. One of the largest that survived the centuries without damages.
In the Convent of the Sacred Heart there are other anamorphoses, but they are not complete.
Rome has plenty of super famous tourist attraction. Have you ever thought that Rome could offer you also such evocative experiences like optical illusions?
Do you want to spend your holiday in Italy ?
Discover our accommodationsin Rome