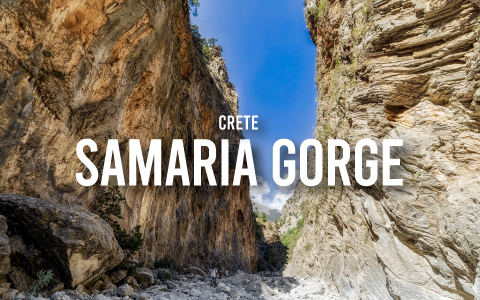 A visit to the Samaria Gorge National Park, Crete
Are looking for an amazing outdoor experience while on holiday in Crete? The Samaria Gorge National Park is a must-visit destination! This is a breathtaking park located in the heart of the White Mountains. Why is it so special? Because it offers some of the most stunning scenery in all of Greece.
THE SAMARIA GORGE NATIONAL PARK
Crete boasts a natural landscape dotted with over 400 canyons. And the Samaria Gorge is the longest one not only on the island but in Europe!
Located in the southern part of Crete, at about 1200 m above the sea level, it is approximately 12 kilometers long and a hike takes about four to eight hours to complete.
The national park is also home to local animals, such as the famous Cretan kri kri goat, the golden eagle and the Cretan wild cat. Furthermore, its secluded position has made it the setting for several historical events. For example:
– it was the scene of numerous battles between the Greeks and Turks;
– in 1896 all of Greece was under the reign of the Ottoman Empire except for the Samaria Gorge;
– during the Second World War it offered an escape route to the retreating Allied troops.
THE HIKE
The walk in the Samaria Gorge takes you through extraordinary sceneries.
You will cross wooden bridges and narrow passages, such as the famous Portes (or Iron Gates), which is 3m wide and between 300 and 700m deep. You will meet the beautiful church of St. Nicholas and the desolate village of Samaria.
In addition, you will enjoy the coolness of the pine and cypress forest and the scents of the Cretan flora.
Finally, once you reach the small coastal town of Agia Roumeli (reach only on foot or by boat) you can dive into the Libyan Sea and refresh yourself in a tavern.
USEFUL INFORMATION
The National Park is open from April to October. To get there, you can take a bus from Heraklion or Chania.
Remember to wear comfortable shoes and bring plenty of water. Indeed, it can get quite hot during the summer months. Moreover, alway check the The Samaria Gorge National Park official website for weather condition and accessibility.
Are you planning a holiday in Greece?
Discover our villas on Crete!