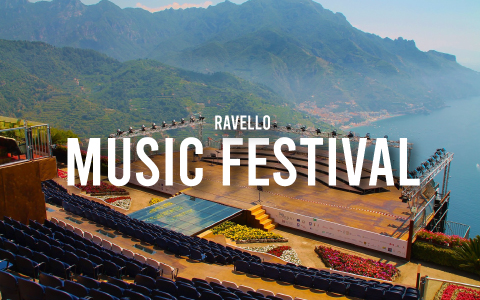 The Ravello Music Festival is one of the most important annual cultural festivals in Italy and Europe. Although it is mainly a classical music festival, the program includes cinema, literature and art events.
HISTORY OF THE FESTIVAL
The history of the Ravello Music Festival begins in the 1930s. At the time, the orchestra of the Teatro San Carlo of Naples performed at Villa Rufolo more than once. These concerts were highly appreciated, both for the music and for the scenography of the Villa. So, 20 years later the Provincial Tourist Board decided to create a larger event. Finally, in 1953, on the occasion of the 70th anniversary of Wagner's death, the "Wagnerian Concerts in the Klingsor Garden" started.
WAGNER AND RAVELLO
For years Wagner remained the leitmotif of the Ravello Music Festival, and even today the program includes his compositions.
The reason for this link dates back to 1880.
During a stay in Naples Wagner took a three day trip to Amalfi and one afternoon he visited Ravello and Villa Rufolo. Entering the gardens he was amazed to find the same scenario that he had imagined for the garden of Klingsor and his famous work Parsifal.
To testify to Wagner's amazement and admiration for the gardens of Villa Rufolo, there is his autograph in the register of the guesthouse where he stayed, accompanied by the phrase: "Klingsor's Magical Garden is found".
THE RAVELLO MUSIC FESTIVAL
As reported by the official website of the Ravello Music Festival, since its start the festival has hosted:
– orchestras (Staatskapelle of Dresden, Münchner Philharmoniker, Royal Philharmonic, London Symphony Orchestra, etc.);
– chamber ensembles (the Chamber Orchestra of Europe, the Camerata Academica del Mozarteum of Salzburg, the Italian Quartet);
– directors (Ashkenazy, Barenboim, Chung, Davis, Frühbeck de Burgos, Gergiev, etc.);
– soloists (, Asciolla, Canino ,,, Glass, Kempff, Lindbergh, Pogorelich, Rampal, Ughi, Weissenberg);
– jazz players (Bollani, Caine, Hancock, Marsalis);
– opera singers (Behrens, Christoff, Domingo, Jerusalem, Meier, Raimondi, Salminen, Urmana);
– pop singers (Noa, etc.);
– composers (Battistelli, Nyman, Sciarrino);
– dancers and choreographers (Bejart, Bolle, Ferri, etc.);
– actors and directors (John Malkovich, Dino Risi, Valeria Golino, etc.).
THE HANGING STAGE AND THE CONCERT AT DAWN
Villa Rufolo is an enchanting place, but there is one spot that fascinates the spectators of the Ravello Music Festival: the hanging stage.
This stage is on a natural terrace 340 meters above the Gulf of Salerno and overhangs the sea.
The view is breathtaking and for this reason it is the setting for the Concert at Dawn.
This evocative concert begins when it is still night and classical music accompanies the rising of the sun that tinges the sky and the sea with a thousand shades.
It is a moment of great emotion for the spectators and also the highlight of the Ravello Festival.
Are you planning to visit Ravello?
Discover our accommodations on the Amalfi Coast