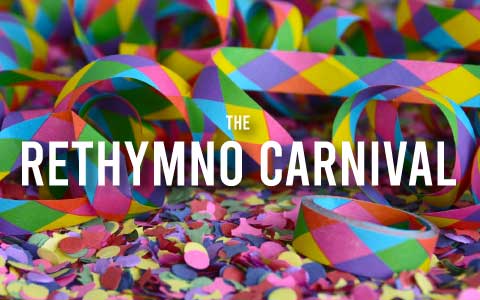 The Rethymno Carnival, a mix of traditions and fun
The Rethymno Carnival is the most popular carnival in Crete, Greece.
What's special about it? First of all,  it lasts almost a month! Then, it is a succession of parties, parades of allegorical floats and events. In short, it is a time of joy and real fun. In addition, it is an opportunity to discover the folk traditions of Crete.
THE RETHYMNO CARNIVAL
The origins of the Rethymno Carnival
The first edition of the Rethymno Carnival took place in 1914. At the time, one of the main events was the treasure hunt which was the reason for the creation in 1990 of the teams that, still today, organize the entire carnival.
The Carnival takes place every year between February and March, but preparations begin during the previous autumn. Moreover, every year the theme is different.
The main events of the Rethymno Carnival
Although it lasts 3 weeks, the main events of the Rethymno Carnival take place in the final days. Among these, the aforementioned treasure hunt, the dance of the teams and the final bonfire.
Then, there are concerts, children's shows, music, traditional dances, themed parties in the clubs, barbecues on the streets during Thursdays on Fat Thursday and much more.
However, the main event is the final Grand Parade or Sunday Parade.
During this parade, the carnival teams display their allegorical floats by parading along Rethymno's main boulevard. The party then goes on all night.
The tsikoudiá, also know as raki
There is no party without alcoholics and the Carnival of Rethymno is no exception. And, of course, the Cretan drink par excellence is raki.
Originally called tsikoudia, raki is served after every lunch and on all special occasions.
But beware: Cretans don't drink raki to get drunk, but to celebrate friendship and sociability.
This liqueur is prepared with pomace which, after having fermented in barrels for more than a month, is boiled in a special container.
A tasty variant of raki is rakomelo, or raki with honey.
THE TOWN OF RETHYMNO
Rethymno is a delightful town located on the north coast of Crete, about 80 km from Heraklion.
As it overlooks the sea, there are beautiful beaches nearby. But the town is an excellent tourist destination also for those looking for culture.
The history of Rethymno is strongly linked to the dominion of the Republic of Venice. In fact, during a tour of the town you will discover that many of its main monuments were built by the Venetians. Among these, the Venetian port with the Egyptian Lighthouse, the Rimondi fountain and the Venetian fortress.
But there's much to discover. For example, another great monument is the Neratze Mosque, with its tall minaret.
In any case, the best thing you can do is wander around the town and enjoy its typically Greek atmosphere of this town. An atmosphere that become even more fascinating during carnival.
Are you planning to visit Crete?
Discover our accommodations on the Greek Islands