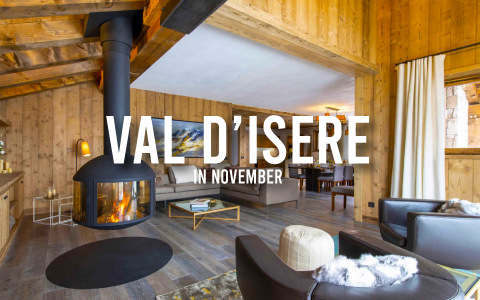 Embracing Tranquility: Exploring Val d'Isère in November
In the heart of the French Alps, Val d'Isère is a name synonymous with world-class skiing and winter wonder. However, this charming mountain village offers a whole different experience in November, when the snow has yet to blanket its slopes.
November in Val d'Isère is a lesson in embracing stillness. As the hustle and bustle of the ski season has not yet commenced, the village exudes an aura of calm, offering a perfect retreat for those seeking respite from the city's constant buzz.
5 Ways to Enjoy Val d'Isère in November
This period of the year unveils a tranquil, serene side of this alpine gem, inviting visitors to revel in its natural beauty, outdoor activities, and cozy mountain ambiance.
1. Culinary Delights
Val d'Isère boasts a vibrant culinary scene that transcends its winter offerings. In November, local restaurants and eateries offer a more intimate experience, allowing diners to savor the flavors of Savoyard cuisine without the rush. From hearty fondues to succulent raclettes, the alpine cuisine warms both body and soul.
2. A Season for Adventure
While skiing may be on hiatus, Val d'Isère's in November provides a playground for outdoor enthusiasts.
The Alpine scenery takes on a new splendor in November. The trails, free from the snow's embrace, unveil a rich tapestry of colors, with golden larch trees interspersed with evergreens. Hikers can explore routes like the 'Lac du Chevril' trail, offering awe-inspiring views of the Tarentaise Valley and its surrounding peaks.
The slopes that will soon be covered in snow are transformed into an expansive network of mountain biking trails. Novice and expert bikers alike can revel in the challenge and thrill of navigating the rugged terrain. The crisp mountain air and awe-inspiring vistas make for an unforgettable ride.
For those seeking vertical adventures, Val d'Isère offers an array of rock climbing opportunities. The sheer rock faces that form the valley's dramatic landscape beckon climbers to test their skills, promising both exhilaration and a sense of accomplishment.
3. Unwinding in Alpine Luxury
November in Val d'Isère allows visitors to indulge in the art of relaxation amidst breathtaking surroundings.
The village's luxury spas open their doors, inviting guests to indulge in pampering treatments. Soothing massages and rejuvenating therapies, combined with the crisp mountain air, offer a perfect recipe for relaxation and rejuvenation.
Do you prefer to cozy up by a roaring fire with a good book or a glass of local wine? Our chalets for rent in Val d'Isère provide the perfect setting for such moments, allowing you to unwind in warmth and comfort.
4. Embracing the Local Culture, Art and History
November is an ideal time to immerse oneself in the local culture of Val d'Isère.
The charming village streets, unencumbered by the winter crowd, invite leisurely strolls. Visitors can explore local boutiques, art galleries, and quaint cafes, immersing themselves in the village's unique atmosphere. Don't miss the opportunity to visit the villages nearby, such as Meribél.
But Val d'Isère also boasts a rich cultural heritage. A good way to explore is is by visiting museums, such as the Museum of Val d'Isère. This museum provides insights into the region's history, from its origins as a farming community to its transformation into a world-renowned ski destination.
5. Embracing Nature's Rhythm
Visiting Val d'Isère in November is an invitation to witness the transition of seasons. It's a time to enjoy the village in its raw, unspoiled beauty, and to appreciate the simple pleasures that it offers.
As the winter approaches and the first snowflakes begin to fall, Val d'Isère will once again transform into a winter wonderland, ready to welcome skiers and snowboarders from around the world. But for those who venture here in November, they'll discover a different, equally enchanting side of this alpine gem – a side that speaks to the soul and leaves an indelible mark on the heart.
Are you planning to visit the French Alps?
Discover our luxury chalets in Val d'Isère