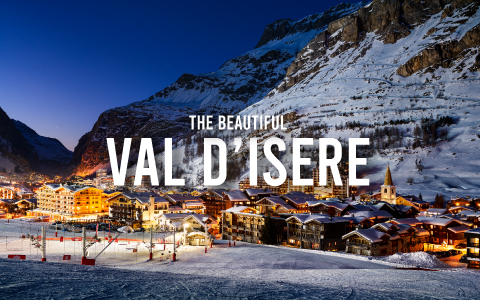 If you're looking for a winter wonderland, Val-d'Isère is the place for you. It offers stunning scenery and plenty of activities to keep you busy during your stay. Whether you're a skiing enthusiast or just looking for a place to relax and take in the beautiful views, this place is definitely worth a visit!
Some information about Val-d'Isère
Val-d'Isère (1850 mt a.s.l.) is located in the Tarentaise Valley in Savoie, southeastern France, 5 km from the Italian border and close to the Vanoise National Park.
Even though human presence in the valley dates back to before Roman times, with traces of Celtic tribes found in the area, the Valley became popular only in the 1930s, when the first ski lift was built. It has plenty to offer in terms of cultural attractions. One example is the Val-d'Isère Church, a Romanesque building dating back to the 12th century. The walls are decorated with 18th-century frescoes that are worth seeing. In addition, there is also a museum where you can learn more about the local history and culture.
This part of the French Alps has a cold climate, and December is the wettest month, hence snowy. In short, it is perfect for skiing!
Skiing in the French Alps
As already mentioned, Val d-Isère is part of the Tarentaise Valley, an area that has the largest concentration of ski resorts in the world. The district of Les Trois Vallées, with the village of Meribel, is also part of it.
The ski area of Val d'Isère and Tignes forms the Espace Killy, named after Olympic champion Jean-Claude Killy, a native of Val d'Isère.
In general, the Valley is home to both downhill and cross-country ski trails, for any level of difficulty. In addition, the valley is famous for having excellent off-piste runs accessible by ski lifts. Of course, It also offers a variety of activities for non-skiers, such as snowshoeing and paragliding. There is also an Olympic bobsleigh track that is open to guided tours.
One of the best spots for skiing in Val d-Isère is Pissaillas Glacier, on which you can also ski in summer.  Val d'Isère is also home to one of the best ski schools in Europe.
Other activities to do
Val-d'Isère also offers a variety of nightlife venues, ranging from cozy bars to chic nightclubs. In addition, it is also home to some spa resorts, with treatments and therapies designed to relax and rejuvenate.
In Val d'Isère, you can also shop for local products such as cheese, meats, and wines.  It is also a great place for families with young children, as there are plenty of attractions and activities tailored to kids.
So, Val-d'Isère offers something for everyone and it is also well connected in terms of transportation to and from cities such as Lyon and Geneva. That's why it is an ideal destination for a winter holiday in the French Alps!
Are you planning to visit the French Alps?
Discover our luxury holiday homes in Val-d'Isère