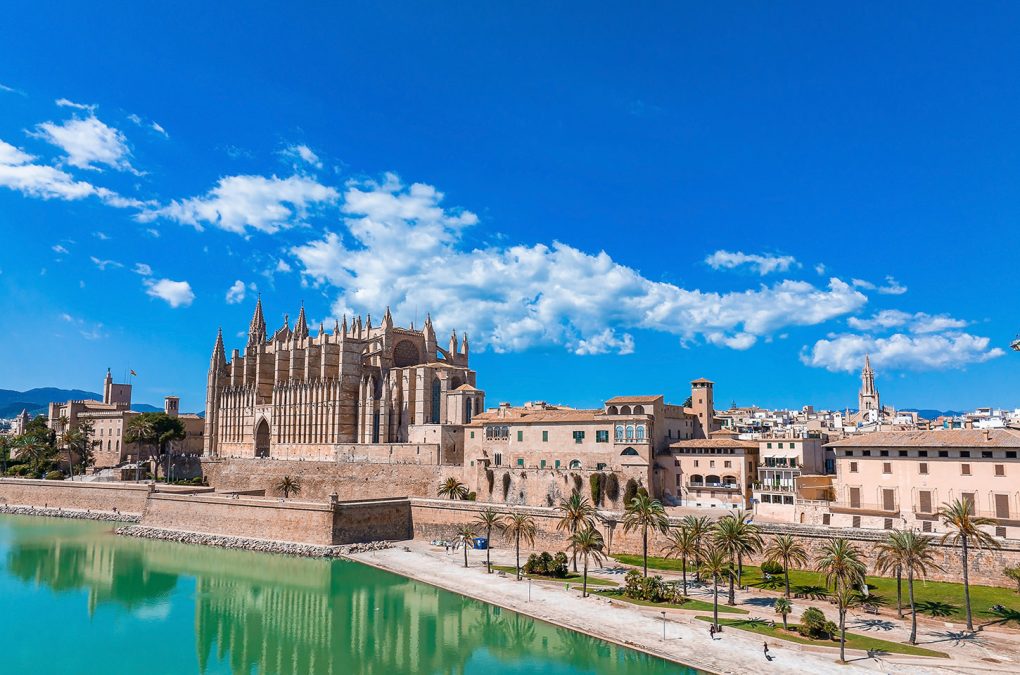 What to see, eat and drink in Palma de Mallorca
Mallorca is a beautiful Mediterranean island that offers great beaches, enchanting sea views and lots of fun. But its capital, Palma de Mallorca, is good also from a cultural and gastronomic point of view. This is due to the long history and the different dominations that influenced the island.
Let's discover what to see, eat and drink in Palma de Mallorca to get the best out of it.
What to see in Palma de Mallorca
There are plenty of monuments, museums and buildings to visit. You can schedule a tour or just wander aimlessly through the streets until you find them.
The first thing you absolutely must see is the Cathedral La Seu.
It's the most iconic landmark of Palma de Mallorca, with Gothic spires and a warm color that is enhanced by the Spanish sun.
The cathedral construction started in the 13th century and even Gaudì worked on its completion.
This impressive building is even more suggestive at night, when floodlit.
Furthermore, La Seu is located in a pleasant part of the city, surrounded by vegetation and overlooking the gulf.
Next to the Cathedral is the Gothic building called L'Almudaina.
Originally it was a Muslim fortress built in the 10th century. It's really well-kept since it is a royal residence used for official visits.
Its strong points are the vivid colored carpets and tapestries and the chapel decorated with typical Gothic windows.
During your wandering in Palma de Mallorca you should reach Placa del Mercato to see the Casasayas and the Pensión Menorquina buildings.
They are two symmetrical buildings, one in front of the other, which recall the famous Casa Batllo in Barcelona. The Art Nouveau style is the same, with wavy design, geometric decorations and parabolic arches. Really peculiar.
Palma de Mallorca has a castle too.
Castell de Bellver is a well-kept building (not ruins) and has a rare feature: it's round! Moreover, it is located on a hill and, once on top, you can enjoy a 360° view over the city and the Bay of Palma de Mallorca.
The climb can be hard, but it's worth the reward.
Bellver Castle houses a civic museum, events and concerts.
What to eat in Palma de Mallorca
As I alway say, if you truly want to understand the city you're visiting, you should eat the local food.
Pork, fish and vegetables are the basic ingredients of Mallorcan cuisine. They are used in some of the most typical dishes you can taste.
Sobrassada is soft cured sausage made from pork mince, bacon, and spices. It looks a little like chorizo. People in Mallorca usually spread it on rustic bread or eat it with cheese.
Vegetarians will love Tombet, a sort of ratatouille made with aubergines, potatoes, red peppers, tomatoes and garlic. It can be enriched with meat or fish.
During your walk through the city you could get hungry and Coca Mallorquina is the perfect snack. It is a simple but tasty baked flat bread dressed with vegetables. It may look like a pizza, but it's not.
Of course, during your stay in Maiorca you must try the Tapas. Tapas are Spanish finger foods that people usually eat while drinking some wine or a beer.
They are prepared with a wide variety of ingredients. They can look like slices of bread with something on them, little skewers with olives or anchovies, meatballs, slices of prosciutto and much more.
I think that the most typical tapas in Mallorca are Llom Amb Col, Fritta Mallorqui, Lechona Asada. What are they made of? C'mon, if I tell you everything then you'll have nothing to discover by yourself!
And what about sweets and desserts? Well, one of the most popular souvenirs among tourists is the Ensaimada, a spiral-shaped pastry made with flour, eggs, sugar, mother dough and pork lard. Natives usually eat it for breakfast or in the afternoon with coffee.
What to drink in Mallorca
Mallorca has its own wine production. Most of it is located around the village of Binissalem and the main grape varieties are Manto Negro and Callet for red wines and Moll for whites.
Another typical alcoholic drink is Hierbas, an herbal liqueur.
It's made with molasses, wine and herbs like aniseed, lemon, rosemary, thyme, chamomile, fennel and more. People say it aids digestion and usually sip it after dinner.
In Palma de Mallorca you can also taste a very special coffee called Carajillo.
It is an an espresso with some brandy. Sometimes it can be flavoured with cinnamon and/or lemon peel.
As you can see, Mallorca is much more than beach life. Palma de Mallorca is definitively a nice destination for a day trip during your summer holidays or for a weekend during low season.
I'm sure you will have a good time there.
Do you want to spend your holiday in Mallorca ?
Discover our accommodations in the Balearic Islands