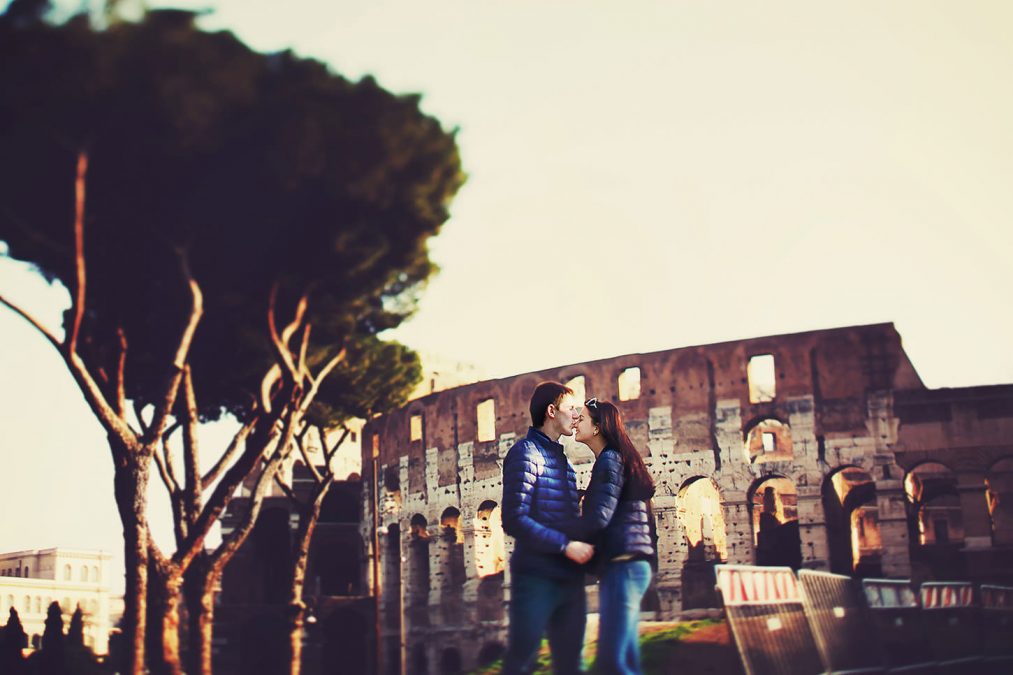 Where to go on a Valentine's Day in Rome
Can you immagine something more romantic than spending your Valentine's Day in Rome? The so-called Eternal City is the perfect background for a walk hand by hand with your soulmate, at least.
Everything seems to be set up to encourage love and passion.
But besides a panoramic tour, which is unmissable especially if you are coming to the city for the first time, there are many things to do and see in Rome to live a perfect Valentine's day.
But first of all…
The story of Saint Valentine
Valentine was a Christian bishop born in Terni who lived in Rome during the third century, when Christians were persecuted
We don't know much about his life. We know he was beloved by the Christian population and the Emperor, who was a pagan, didn't like this.
One day the soldiers captured, tortured and beheaded him, and finally buried his body near Ponte Milvio. It was the 14th of February 273.



But why is he considered the patron saint of lovers?
The legend says he helped a Christian girl and a pagan boy to get married on the day he died. Unfortunately, the couple died the same day too.
During the 4th century, the primordial Christian church establishment used this legend to create a Saint Valantine's Day as an attempt to replace the Lupercalia, an ancient pagan fertility rite considered in contrast with Christian morality. 
However, many recent studies say that s, not in Italy but in England!
The Skull of Saint Valentine
Near Circo Massimo there's a small and very old church, the church of Santa Maria in Cosmedin, which is popular because of the Mouth of Truth in the portico.
Every day, flocks of tourists come to see the Mouth of Truth but just a few of them visit the church itself.
Yet, it's worth a visit.
Once inside, on a side altar, at the foot of a large painting, you will find a case. Inside the case is a skull that is said to be that of Saint Valentine.
I must be honest, this is not the only relic of Saint Valentine in Italy, not even in the world!
In fact, there has been more than one martyr named Valentino and relics have always been a lucrative business even in the past, so merchant sometimes used to sell fake ones. Even if the skull isn't the original one, I think that if you're spending your Valentine's day in Rome, you should celebrate what Valentine died for, that is loyalty, perseverance and love.
These are things that every couple needs, aren't they?
A Walk on Ponte Milvio
For many years, young couples in Rome have been hanging padlocks to the street lamps of Ponte Milvio and then throwing the key into the Tiber as a symbol of eternal love.
This tradition comes from an Italian novel of 2006, later transformed into a movie, in which a couple of teenagers celebrate their love in this way.
Over the years most of the padlocks have been removed because the weight was damaging the street lamps, so lovers have started to hang them on other bridges and even on the Trevi Fountain.
During your Valentine's Day in Rome, a walk to Ponte Milvio is a must.
I am not telling you to hang a padlock and throw the key away! This behavior can damage the city.
However, this bridge is undoubtedly considered a romantic place by citizens and tourists. It's where they exchange their promises of love. Furthermore, it is one of the oldest bridges in the city, a real monument. You should see it!
Other Things to do on a Valentine's Day in Rome
As a big city, Rome has plenty of restaurants and interesting places to enjoy.
Moreover, on Valentine's Day special events are set up here and there.
Whatever is the kind of short trip you are planning to celebrate your love, I'm sure that Rome will not disappoint you.
Do you want to spend your holiday in Italy ?
Discover our accommodationsin Rome