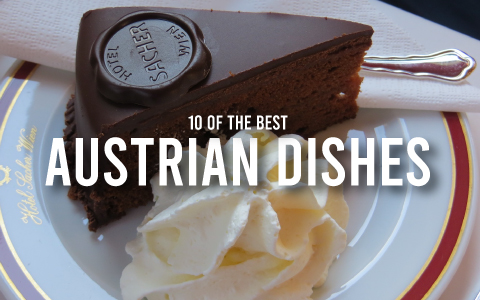 The Vorarlberg region of Austria is known for its wonderful mountains, ski slopes, and winter tourist destinations such as Lech. But in between skiing, hunger sets in!
So how is the culinary tradition in the Alpine country? The main ingredients in Austrian cuisine are cheese, pork, beef, potatoes, and bread. These simple ingredients are used to create some of the best dishes and recipes in all of Europe.
Here are 10 mouthwatering Austrian dishes that you need to try!
BEST AUSTRIAN DISHES
1.Käsespätzle: A regional favorite from Vorarlberg, Käsespätzle is a type of egg noodle mixed with cheese and fried onions. This hearty dish is best enjoyed in the winter months for warming up after a day of skiing!
2.Tafelspitz: Tafelspitz is one of the most traditional Austrian dishes with beef. The best part of this hearty stew? You can taste the flavors of herbs and root vegetables that have been cooked together for hours in a rich, delicious broth.
3.Wiener Schnitzel: Ok, this is a specialty of the city of Vienna, but it is so famous that we cannot help to put it in our list of best Austrian dishes. It consists of a breaded veal cutlet that is pan-fried until golden brown. Wiener Schnitzel can be served with potatoes, rice, or a side salad.
4.Knödel: A type of dumpling, Knödel is usually served as a side dish to accompany the main course. The best part? They come in different varieties so you can choose the best kind for your meal!
5.Brettljause: This snack platter is perfect for sharing with friends and family during you ski break. It includes a variety of cold meats, cheeses, and bread.
6.Rahmfleckerl: This is another of the many traditional Austrian dishes that consists of egg noodles mixed with vegetables and herbs. It is usually eaten with a creamy, cheesy sauce.
7.Griessnockerlsuppe: This soup is made from semolina dumplings cooked in beef broth and topped with chives. It's best served hot and is perfect for cold winter nights.
WHAT ABOUT DESSERTS?
So, you have a sweet-tooth, uh? Here you are!
8.Apfelstrudel: A popular dessert throughout Austria, Apfelstrudel is essentially an apple-filled pastry. We suggest you enjoy it with a scoop of vanilla ice cream and a drizzle of caramel sauce
9.Kaiserschmarrn: This is a fluffy, sweet pancake that gives its best when paired with a dollop of jam and a sprinkle of powdered sugar. We truly think that Kaiserschmarrn is the perfect way to end a meal!
10. Sacher Torte: A classic Austrian dessert, Sacher Torte is a chocolate cake with a layer of apricot jam and topped with dark chocolate ganache. It is usually served with fresh whipped cream and it's best enjoyed with a cup of coffee or tea.
Well, as you can see the best part of Austrian cuisine is that there is something for everyone. Whether you're looking for a hearty meat dish or a sweet dessert, you can find it in Austria!
Do you want to visit the Vorarlberg Region ?
Discover our luxury apartments in Lech and St. Anton