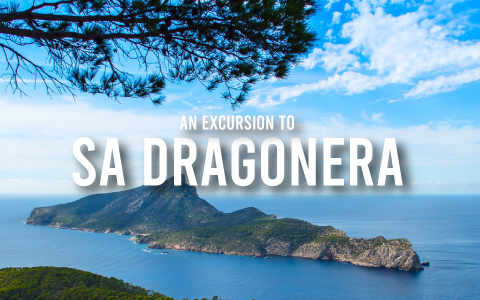 AN EXCURSION TO SA DRAGONERA ISLAND
Off the coast of Mallorca lies the untouched and uninhabited island of Sa Dragonera. The evocative name of this island recalls dragons and seems to derive from the presence on it of indigenous lizards called dragò. However, some believe it is due to the shape of the island resembling a sleeping dragon. In any case, it is a great destination for an excursion during your holiday in Mallorca.
Let's find out more!
SA DRAGONERA, THE ISLAND OF LIZARDS
Sa Dragonera is located in the west of Mallorca, in front of Sant Elm, not far from Palma de Mallorca. The island is the natural extension of the Serra de Tramuntana, from which it is separated by a thin stretch of sea.
It is 4 km long and only 700 meters wide, but the coast is very varied. To the west we find cliffs overlooking the sea. To the east, beaches and coves. Furthermore, there are numerous caves that in the past were a refuge for pirates, including the famous Barbarossa.
In 1977 the island was occupied by a group of environmentalists who protested against the planned tourism projects on the island. And they won! Thus, in 1995 it became a nature reserve together with the islets Illot des Pantaleu and Sa Mitjana.
THE SA DRAGONERA NATURE RESERVE
The Sa Dragonera nature reserve is home to over 361 different plant species and numerous native animals, such as the Lilford wall lizard (Podarcis lilfordi giglioli). Indeed, during a visit to the island you will be surrounded by hundreds of tiny lizards that will move all around you with your every step!
But Sa Dragonera is also home to the largest European colony of Eleonora's falcons, bats are the only mammals on the island, while the seabed is also full of life: particularly noteworthy are the Posidonia oceanica prairies.
On Sa Dragonera there are some paths that tourists can follow to explore the island. One of these leads to the top of Puig de Na Popia, the highest point on the island, where one of the lighthouses is located. While from Cap de Tramuntana, on the northern tip, you can admire a spectacular panorama of the coast of Mallorca.
Remember that there are no services or bars on Sa Dragonera, so bring everything you need with you.
HOW TO REACH THE ISLAND
You can reach Sa Dragonera with your boat or with the ferry that leaves regularly from the Sant Elm pier and arrives at the Cala Llado pier. At Cala Llado is a small tourist office.
You can visit the island by yourself or join guided tours, but if you are in a group of 10 or more, you need a written authorization to land.
The park is open all year round. From April to September, from 10 AM to 5 PM. The rest of the year, from 10 AM to 3 PM.
Are you planning to visit Sa Dragonera?
Discover our accommodations on Mallorca