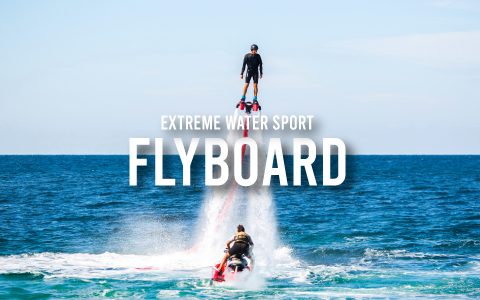 Flyboard: the water jetpack that will make you feel like a superhero
Summer is the magical time of water sports. If snorkeling, windsurfing or jet skis no longer give you the emotions of the past, well, try the Flyboard!
WHAT IS FLYBOARD?
The Flyboard consists of a board on which special boots are attached. Often, a long tube connects this board to a jet ski whose motor pushes water through it. The pressure is so strong that whoever "wears" the board is lifted into the air, up to 12 meters!
Some Flyboards also include technical vests that allow propulsion in the air or underwater. In any case, during the flight, you can perform acrobatic tricks. You can jump, turn, and dive like a dolphin, or hover and bolt like a superhero!
FLYBOARDING: IS IT DIFFICULT? CAN EVERYONE DO IT?
Flyboarding is considered an extreme water sport. It may look simple – standing on a board and fly! – but actually, it is more complicated. The difficult part is to find your balance on the board at first. But as soon as you master it, you can fly like a bird!
Anyone over the age of 12 can do it, as long as they are in good physical shape (the abdominal muscles work a lot during the flight) and do not suffer from vertigo. Generally, with a 20-minute lesson, you can already learn the basics to have fun.
Obviously, it is always better that you rely on an instructor also to understand if the weather conditions are suitable for a Flyboard session. In fact, too much wind and rough sea makes it dangerous.
You can practice Flyboard wherever there is water: sea, lakes, or rivers. In many of the locations where our rental properties are located (such as Ibiza, Mykonos, and Lake Como) several schools offer Flyboard lessons and equipment.
Are you planning a holiday in Italy, Greece or Spain?
Discover our villas on the best Mediterranean destination!