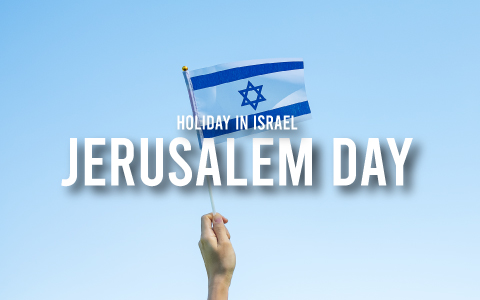 Jerusalem Day is one of the most important holidays in the city. The inhabitants enjoy shows, festivals and events. Meanwhile, everywhere the city lighting turns white and blue to recall the official Israeli flag.
WHAT IS JERUSALEM DAY
Jerusalem Day, or in Hebrew Yom Yerushalaim, celebrates the reunification of Jerusalem and the Israeli re-gain of the Old City.
After WWII, the United Nations proposed the establishment of two states in Palestine: a Jewish state and an Arab state. Jerusalem was to remain an international city for 10 years – neither Arab nor Jewish – then, the residents would have to choose which country to join by referendum. The Jewish leadership accepted the plan, including an international Jerusalem, while the Arabs didn't.
On 15 May 1948, the neighboring Arab countries attacked Israel, after declaring its independence. Jordan conquered East Jerusalem and the Old City,  expelled resident Jews and demolished half of the synagogues.
Finally, in 1967, Israel and Jordan fought the Six Day War, during which Israel conquered the Old City. It was June 7, 1967, or 28 Iyar 5727 according to the Hebrew calendar.
WHAT HAPPENS DURING JERUSALEM DAY
This year, the city celebrates the 53rd anniversary of reunification between Saturday May 28th and Sunday May 29th. It is a sort of Jerusalem birthday. For this, the administration sets up stages around the city, organizes concerts and many other events.
Indeed, this a fascinating holiday, since it includes both parties and official celebrations with politicians and war veterans. One of the most popular event is the long Jerusalem Day parade, where you can you can mix with the locals.
Unfortunately, the calendar of events for this year is not yet available, but we expect great things. In any case, May is a great month to plan a trip to Jerusalem and discover the wonders of Israel.
Are you planning to visit Jerusalem?
Discover our accommodations in Israel