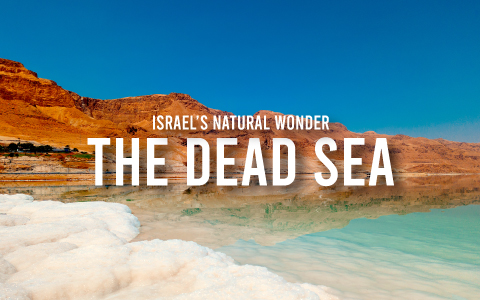 The Dead Sea: A Unique Natural Wonder
On the border between Israel and Jordan, about 80 km from Tel Aviv, lies one of the most unique natural wonders in the world: the Dead Sea.
The Dead Sea has been an attraction for centuries due to its deep blu water and the mysterious yet beautiful landscapes. In fact, its coast stretches over 400 km, offering visitors magnificent views of white sand beaches and rugged mountains.
Why is the Dead Sea so special?
Despite the name, the Dead Sea is a lake. But it is not a lake like any other.
First of all, it represents the lowest point on Earth, with its shores 400 meters below sea level.
Also, it stands out because of its salinity: while the average ocean has a salt content of 3%, the Dead Sea is 8.6 times as salty! This makes it difficult for living creatures to survive in the lake, hence its name.
Moreover, the lake is also home to some of the most amazing geological features in the world. For example, it has some of the world's largest and most spectacular salt formations, with walls, columns, and even natural sculptures that can reach a height of up to 30 meters. The landscape around the Dead Sea is also very picturesque, with rolling hills and the majestic Judean mountains as a backdrop. From the shoreline to the vast desert, you can witness impressive views that make a visit to this place an unforgettable experience.
Why Visit It?
The first reason to visit the Dead Sea is certainly the beauty of the place, but there's more.
In fact, the high salinity of the lake allows you to have one of the most incredible experiences of your life: floating effortlessly in the water. The feeling of weightlessness is terribly relaxing and definitely fun!
But the Dead Sea is also known for the therapeutic properties of its water and mud, which contain minerals that are said to be beneficial, in particular for those suffering from skin conditions such as psoriasis or eczema. That is why people have been visiting the lake for centuries to take advantage of its healing powers.
Finally, it is also a great destination for visitors looking for exciting activities. For example, you can go kayaking or sailing, explore salt caves, take SUV or ATV rides, or you can take a tour of Masada and Qumran, two ancient sites located near the lake.
To sum up, the Dead Sea is a unique and mesmerizing place that should not be missed. Not only you will have the chance to perform therapeutic activities in a beautiful environment, but you will also have the opportunity to experience an ancient wonder of nature. So don't miss out on this opportunity and visit it! You won't regret it.
Do you want to visit the Dead Sea ?
Discover our luxury apartments in Tel Aviv