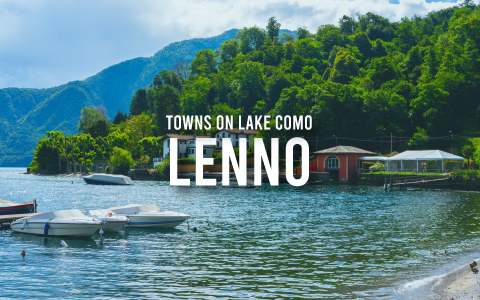 What to see in Lenno, the lovely town on the shores of Lake Como
A few weeks ago we posted a blog article about our luxury villas for rent in Lenno, Lake Como, in Italy. Now, we want to tell you something more about this town.
You have probably already heard about Bellagio or Laglio, but on the shores of Lake Como are several lovely town, and one of these is Lenno. Located west of the Lake, not far from Milan, this town is known for its scenic beauty, offering stunning views of the lake and the surrounding mountains.
Let's find out more about Lenno.
What to see in Lenno, Lake Como
Lenno is a tranquil and picturesque town that attracts tourists looking to experience the beauty of Lake Como and enjoy a relaxing vacation in a charming Italian setting. Here are some of the key sights in the town:
The old town and the waterfront
Take a stroll along the Lenno waterfront and enjoy the charming atmosphere of the town. Explore the narrow streets of the old town and admire the traditional Italian architecture. Then, when you are tired, take a break: there are several cafes, restaurants, and shops where you can enjoy local cuisine and purchase souvenirs.
Villa Balbianello
Villa del Balbianello is a stunning 18th-century villa situated on a promontory on the lake. The villa boasts beautiful gardens, terraces, and ornate interiors and has been featured in several movies, including James Bond's "Casino Royale" and "Star Wars: Episode II – Attack of the Clones." It is not only open to visitors but it is also one of our luxury villas for rent in Lenno.
Churches and religious buildings
When you are Italy a great thing to do is to enter churches. In fact, religious buildings hide artistic and architectural beauties that make them veritable museums.
When in Lenno, visit the Collegiate Church of Santo Stefano, a church whose origins date back to the 11th century but which has undergone renovations over the centuries. The church has beautiful frescoes and is flanked by an exterior baptistery. Really special is the underground chapel, which can be reached through two trapdoors located in the nave.
Another beautiful building is the Acquafredda Abbey, which is located in a panoramic position overlooking the lake. Also worth visiting is its beautiful Italian garden.
Beaches of Lenno
Lenno's lakefront is home to a number of beaches popular with locals and visitors alike. In fact, Lenno is located on the beautiful Gulf of Venus, where the water is clean and few speedboats pass by. Some beaches are public (San Giorgio beach) and some are private (Lido di Lenno). Some are very quiet and others host clubs, restaurants and bars.
What to do in Lenno
In terms of activities, Lenno offers opportunities for boat tours on Lake Como, allowing you to explore the lake and its surroundings. You can also enjoy water sports like sailing and windsurfing.
If you are a hiking enthusiast, you can explore the nearby hills and mountains, which offer breathtaking views of the lake and the surrounding landscapes. For example, just a short distance from Lenno, you'll find the Sacro Monte di Ossuccio, a UNESCO World Heritage Site. It is a hillside complex comprising fourteen chapels that depict the life of Saint Francis of Assisi. The path to reach the complex offers beautiful views of the lake and surrounding area.

These are just a few highlights, but Lenno's location on Lake Como also makes it a great starting point for exploring other nearby attractions. Some examples are the other town on Lake Como, and the other great villas, like Villa Carlotta in Tremezzo, and the scenic landscapes of the surrounding mountains.
Are you planning to visit Lenno?
Discover our accommodations on Lake Como