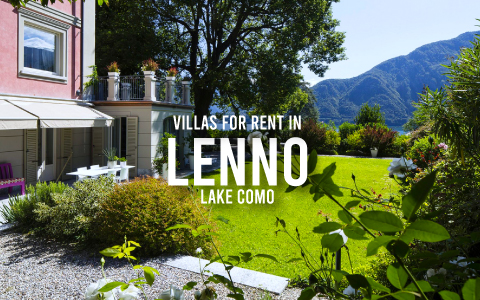 Stunning villas for rent in Lenno, Lake Como
Are you looking for villas for rent in Lenno, Lake Como? You are in the right place!
Lake Como is Italy's third largest lake, completely surrounded by mountains and charming towns, including Bellagio, Laglio and Lenno. The area enjoys a very favorable climate, making it a popular tourist destination for Italians and foreigners alike. In addition, the small towns offer culture, shopping and entertainment.
The beauty of this are is enhanced by the many luxury villas that are on the slopes of the mountains, in the old towns, and, of course, along the shores of the lake. Staying in one of these architectural wonders makes a vacation on Lake Como even more memorable.
So let's take a look at some of our luxury villas for rent in Lenno.
3 villas for rent near Lenno, Lake Como
Villa Porto Felice, Tremezzzina
Bedrooms: 9
Bathrooms: 8
Plus: Location, Hot Tub, Pvt Pool
The first of our luxury villas for rent near Lenno is Villa Porto Felice.
This villa, located in Tremezzina, was built in 1901 and completely restored in 2005, whilst the furnishing and restyling was made in 2019.
It develops in four floors, with internal elevator.
At the ground floor there is a kitchen, two dining room, a gym with changing room and a lovely outside area.
At the first floor we find a spacious living room with access to the wonderful terrace. We find also a second living reading area with library, Hi-fi, and a studio.
The second floor features one suite with double room, private terrace with lake view, private bathroom with shower; two double bedrooms which shares one large bathroom with; a double bedroom with private bathroom.
The third floor has a master suite with amazing lake view over the Gulf of Venere and Balbianello area, a walk in wardrobe and dressing room, a bathroom with a large shower. It also features a double bedroom with lake view, walk in closet, and private bathroom.
At the top floor there is a sitting room with a roof terrace, a twin bedroom and one double bedroom with bathroom in common; a bedrooms with private bathroom, and a studio.
The villa is surrounded by over 10000 sqm of perfectly maintained garden with heated pool, private tennis, volleyball and soccer court, parking area and other services complete the offer.
Find out more and book a stay: https://www.my-rental-homes.com/en/property/lake-como/villa-porto-felice
Villa Leon, Lenno, Lake
Bedrooms: 6
Bathrooms: 6
Plus: Historical Building, Hot Tub, Pvt Pool
Villa Leon is beautiful property built in the early '40s, and it has been classified as a historical monument by the Italian Ministry of Culture.
It develops on three floors.
The ground floor is home to the kitchen, two living areas, one with fireplace, and dining room that opens to the terrace and garden.
On the first floor we have a spacious bathroom, a twin bedroom, and threes double bedrooms, one of which has en-suite bathroom.
On the second floor there are a lakefront terrace to enjoy the stunning view on the lake, the famous Tower Bell of Ossuccio, on the Comacina Island and on the mountains.
The basements features a sitting room, a cellar, beautiful stone stove with wood oven, football table, spa with sauna, Jacuzzi, and emotional shower, a toilet room and the laundry.
Guests can also rent the Junior villa (two floors, with kitchen, one double room, living room, two bathrooms).
Outside, this beautiful villa for rent in Lenno is surrounded by 4300 sqm park with century-old trees, patio, private heated pool with vanishing edge, BBQ, a pergola and spectacular views of the Comacina Island.
A parking area and two marinas make it possible to reach the villa both by car and boat.
Find out more and book a stay: https://www.my-rental-homes.com/en/property/lake-como/villa-leon
Villa Balbiano, Ossuccio
Bedrooms: 14
Bathrooms: 12
Plus: Historical Building, Pvt Pool ,Garden
Among our luxury villas for rent in Lenno, Villa Balbiano is one of the most stunning. The villa dates back to the 16th century, and in the late 18th century it was a venue for festivals, banquets, dances and concerts of the high society.
It includes a main palace (with 6 luxury suites), the left wing (4 bedrooms) and the adjacent villino (4 bedrooms).
The main palace develops on three floors.
On the ground floor we find a fabulous lobby decorated with original frescoes, surrounded by a dining room, a library, a winter garden and three salons. Nearby there are the service rooms: the kitchen and a covered terrace with working fireplace for outdoor dining.
On the first floor there are the studio, the master suite and the guest suite. Through a marble staircase you reach the other four luxurious bedrooms, all with en-suite marble bathrooms.
The left wing consists of 4 bedrooms and 2 bathrooms.
Finally, the villino  is a lovely independent house located in the garden. It features 4 bedrooms with en-suite bathrooms.
Villa Balbiano has a private dock to fully enjoy the charm of the lake.
Find out more and book a stay: https://www.my-rental-homes.com/en/property/lake-como/villa-balbiano
Are you planning to visit Lenno?
Discover our accommodations on Lake Como