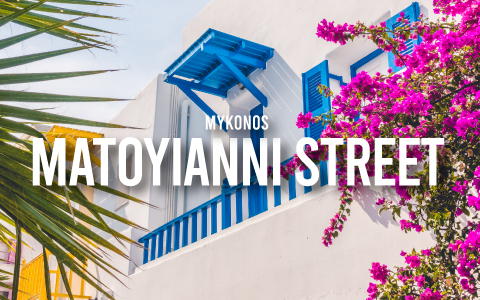 Matoyianni Street, the essence of Mykonos
The Matoyianni Street experience is one that you won't soon forget. Whether you're looking for a taste of local culture, an opportunity to shop, or the chance to relax with a drink by the sea, Matoyianni Street has something for everyone and is definitely worth a visit.
What is Matoyanni Street?
Matoyanni Street is the main strip in Mykonos Town, on the island of Mykonos, Greece. It is named after Matoyannis Anastassiou, a hero of the Greek War of Independence, and has a unique atmosphere that combines the hustle and bustle of a vibrant city with the charm of a traditional Greek village. The narrow cobblestone streets are lined with whitewashed buildings, colorful shutters, and quaint balconies overflowing with flowers – all reminiscent of classic Cycladic architecture.
This street is home to some of the best restaurants, cafes, bars, and shops on the island. So, let's find out more.
Bars and restaurants on Matoyanni Street
When visiting Matoyianni Street, you'll find a variety of restaurants that range from fast food to traditional Greek cuisine to fine international dishes. Some popular restaurants include Avli Tou Thodori for delicious mezze platters, Balcony Restaurant for seafood specialties, and Soho-Soho for modern Mediterranean fare.
The street also boasts several cozy cafés serving freshly-brewed coffee and various light snacks – perfect for when you're feeling peckish.
After dinner drinks are always available at the lively bars on Matoyianni Street; choose from classic cocktails, craft beers, fine wines and more. Two examples are Little Venice Café and The Windmills Bar.
Shopping at Matoyanni Street
Matoyanni Street is considered to be one of the best places to shop in Mykonos. Matoyanni Street has something for everyone – from high-end luxury shops to markets.
If you're looking for souvenirs or gifts to take home, Matoyianni Street has a variety of shops that offer traditional Greek goods like rugs, jewelry, olive oil, and ceramics. You can also find handmade leather goods from local artisans as well as beachwear and other clothing items.
How to get to Matoyanni Street
Matoyianni Street is a short distance from the port. You can reach it by foot or car. Local buses run regularly from various places on the island to Matoyianni Street as well.
Other great things to see in Mykonos
Matoyianni Street is just one of the many places to visit in Mykonos. You can also explore the charming old town, and the neighbourhood of Little Venice, or take a look at the windmills that make this island so popular. Of course, there are plenty of stunning beaches in Mykonos, like Psarou, Ornos, and Paradise Beach.
The island is full of exciting activities, so be sure to take time to enjoy everything that it has to offer!
Are you planning to visit Matoyianni Strett?
Discover our villas and apartments on Mykonos