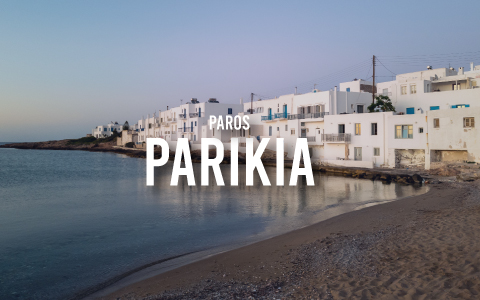 Parikia, the Heart of the Charming Greek Island of
 

Paros

When one dreams of a quintessential Greek island experience, the towns of Santorini and Mykonos are likely what comes to mind. However, Parikia, the picturesque capital of Paros, might surprise you. With its narrow labyrinthine streets, iconic white-washed buildings, and azure sea views, it embodies the charm and allure of the Cyclades…with less tourists!
A Glimpse of Parikia's Rich History
Parikia, also known as Paroikia, is more than just a pretty face. This ancient town is steeped in history and boasts archaeological treasures that date back centuries.
A must-visit attraction is the Panagia Ekatontapiliani, or the Church of 100 Doors. According to legend, it was constructed by Saint Helena, the mother of Emperor Constantine the Great, in the 4th century. The church's name derives from the belief that counting its doors from the outside will yield a different number each time—an intriguing mystery to ponder as you explore its sacred halls.
Adjacent to the church stands the Parikia Archaeological Museum, a hidden gem showcasing artifacts from Paros' rich past. Discover intricate sculptures, ancient pottery, and inscriptions that provide a glimpse into the island's historical significance in the Aegean.
Getting Lost in Parikia's Charming Old Town
One of the greatest joys of visiting Parikia is meandering through its Old Town. Lose yourself in a maze of narrow alleys, where cobblestone streets wind their way between whitewashed buildings adorned with vibrant bougainvillea. It's the perfect setting for an afternoon stroll or some leisurely exploration.
As you wander, you'll stumble upon quaint shops filled with handmade jewelry, textiles, and pottery. These make for excellent souvenirs or reminders of your Greek island adventure. Don't forget to savor the aroma of freshly baked bread wafting from local bakeries—Greece's delicious cuisine is sure to beckon you.
Overlooking Parikia, the Frankish Castle stands as a testament to Paros' tumultuous history. Dating back to the 13th century, this Venetian fortress provides not only a lesson in history but also panoramic views of the town and the Aegean Sea. It's the perfect spot to watch the sun dip below the horizon during a glorious Paros sunset.
Basking in the Sun on Parikia's Beaches
While Paros is popular for its beautiful beaches, Parikia boasts its own stretch of coastline, Livadia Beach.
This sandy haven is the ideal place to soak up the Mediterranean sun or take a refreshing dip in the crystal-clear waters. Beachside tavernas offer a taste of local flavors, serving up fresh seafood and traditional Greek dishes.
For those seeking a quieter escape, venture a bit further south to Agios Konstantinos Beach. Here, the atmosphere is serene and relaxed, and the natural beauty of the surroundings provides the perfect backdrop for a peaceful day by the sea.
Savoring Greek Cuisine and Enjoy the Nightlife
No visit to Parikia would be complete without indulging in Greek cuisine. Whether you're a fan of fresh seafood, grilled meats, or vegetarian dishes, the town's restaurants and tavernas where you can also enjoy Paros' famous wine.
And after dinner, what's next?
While Paros may not be as famous for its nightlife as some other Greek islands, Parikia still offers a vibrant scene, especially during the summer months. As the sun sets, the town comes alive with bars and clubs where you can enjoy music and dancing into the early hours of the morning. It's a fantastic way to immerse yourself in the local culture and make new friends from around the world.
Exploring Beyond Parikia
While Parikia is a destination in its own right, don't miss the opportunity to explore other parts of Paros. Consider taking a boat trip to nearby islands, such as Antiparos, known for its charming streets and impressive caves, or visiting the unique rock formations of Kolymbithres Beach.
In conclusion, Parikia offers a rich and diverse experience for travelers seeking a taste of authentic Greek island life. So, when you're ready to embark on your next adventure, consider Parikia as your gateway to the enchanting world of the Cyclades.
Are you planning to visit Parikia?
Discover our accommodations in Paros