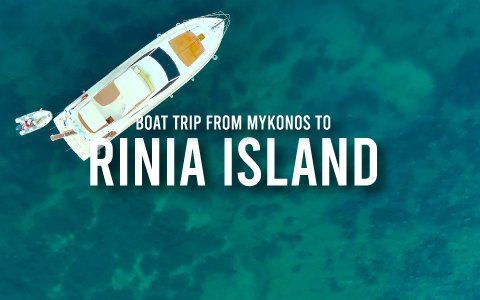 Boat trip to the island of Rinia
Off the coast of Mykonos, just south of Delos Island, is Rinia (Rineia or Rhenea). Also known as Little Delos, it is a small, uninhabited island with beautiful beaches and crystal-clear waters. Definitely a great spot for swimming, snorkeling, and relaxing in the sun. The best way to visit it? During a boat trip! Indeed, island hopping is one of the best things you can do during your holidays on Mykonos.
What to see in Rinia
Beaches in Rinia
One of the most popular beaches on Rinia Island is Ambelia, which offers crystal clear waters, soft sand, and a peaceful and natural atmosphere. Rugged cliffs protect the beach and visitors can enjoy swimming, sunbathing, and relaxing in the tranquil surroundings. There are no facilities or services on the beach, so you should bring your own food, drinks, and supplies.
Another popular beach on Rinia Island is the Glyfada beach, which is popular for its clear turquoise waters and natural scenery. This beach is a great spot for snorkeling, and visitors can see a variety of marine life, including colorful fish and sea turtles.
Lia and Stena are two other great beaches in Rinia.
Historical sites
Despite its small size, Rinia has a rich history and several interesting historical sites, including:
Ancient Settlement: There are the ruins of an ancient settlement on the island, which dates back to the 3rd century BC. The settlement was originally a small village that likely served as a center for agriculture and fishing.

Venetian Quarantine Station: In the 18th and 19th centuries, Rinia Island was used as a quarantine station for ships arriving from ports where contagious diseases were present. The Venetian Quarantine Station was built on the island during this time to house crew members and passengers and prevent them from spreading diseases. Today, the ruins of the quarantine station can still be seen on the island.

World War II Remains: During World War II, the Germans occupied Rinia Island, and there are still some remains of their presence on the island, including abandoned military bunkers and defensive positions.

Howr to reach the island?
As already said, Rinia Island is located just south of Delos in the Cyclades archipelago of Greece. The island is accessible by boat from Mykonos, which is the closest major island.
There are a few ways to reach Rinia Island from Mykonos by boat:
Private Boat: The easiest way to reach the island is to charter a private boat or yacht from Mykonos. If you don't have one, there are several companies that offer private boat tours and excursions. This option allows you to customize your itinerary and explore the island at your own pace.

Group Tour: Another option is to join a group boat tour or excursion. Tour operators in Mykonos offer daily group tours to Rinia Island. These usually include transportation, a guided tour of the island, and some free time to explore and swim at the beaches.

Water Taxi: If you prefer to travel independently, you can also take a water taxi from Mykonos. This option allows you to plan your own itinerary and schedule.

Are you planning to visit Rinia?
Discover our accommodations in Mykonos