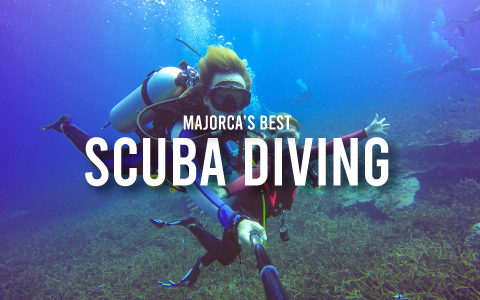 Best spots for scuba diving in Majorca
Majorca is a stunningly beautiful island in the Mediterranean Sea that has long been a favorite destination for travelers looking to soak up some sun, explore its rich culture and history, and enjoy its breathtaking landscapes. But in addition to interesting cities like Palma de Majorca and wild natural areas like La Serra de la Tramuntana, the island has beautiful beaches and excellent spots for scuba diving.
Why Majorca is a great destination for those who love scuba diving?
With its crystal clear Mediterranean waters, the abundance of marine life, the numerous dive centers offering scuba lessons, guided tours, and equipment rental services, Majorca is becoming increasingly popular with scuba divers from all over the world who are looking to experience underwater adventures like no other. From shallow shore dives to deep-sea explorations, whether you're a beginner or an experienced diver – there is something here for everyone!
Here are some of the best spots for scuba diving in Majorca you should check out.
The best spots for scuba diving in Majorca
Badia de Palma
Badia de Palma is one of the most popular sites for scuba diving in Majorca. Located on the eastern end of the island, this spot offers a variety of fascinating underwater landscapes with plenty of colorful fish and other sea creatures to explore.
Cala Figuera
Cala Figuera is another great scuba diving destination in Majorca. This site features a combination of rocky and sandy bottoms. For this reason it is perfect spot for scuba divers to observe diverse marine life at different depths.
Cala Ratjada
In Cala Ratjada divers can explore several shipwrecks in shallow waters as well as deeper spots with plenty of colorful fish and coral reef formations to discover.
Cap de Formentor
Cap de Formentor is an area located on the northern tip of the island. It is renowned among scuba divers for its variety of underwater caves and tunnels. These caves offer a unique experience that you won't find anywhere else in Majorca.
Porto Cristo
Porto Cristo is a scuba diving site located on the southeastern coastline of Majorca. Here, scuba you can explore stunning underwater reefs and caverns filled with an array of different species of fish.
Cala Varques
This sheltered bay provides excellent visibility and lots of interesting marine life to explore. Expect to see lobsters, octopus, eels and more!
Island of Cabrera
The Island of Cabrera is a nature reserve located just off the coast of Majorca. Here scuba divers can enjoy breathtakingly clear waters with an abundance of marine life and untouched coral reefs.
Illa del Toro
Illa del Toro is one of the most famous marine reserves of Majorca. It is located off the southwestern coast of Majorca and offers scuba divers a unique insight into its fascinating geology. Here you will find rocky walls, caves and beautiful coral gardens full of marine life.
No matter which scuba diving destination you choose in Majorca, you're sure to have an unforgettable experience that will stay with you for years to come! So what are you waiting for? It's time to explore the beautiful undersea world of Majorca!
Are you planning to visit these scuba diving sites?
Discover our villas and apartments on Majorca