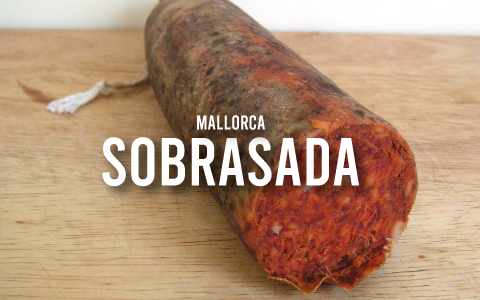 If you are looking for information on what to do and see during a vacation in Mallorca, you will surely have also found information on typical cuisine and local products. One of these is the sobrasada. And you absolutely must try it!
What is Sobrasada?
Sobrasada is a sausage made with pork, paprika and other spices, which is then cured. It gets its characteristic shape from the mold it is traditionally left to dry in.
The history of sobrasada goes back to the Middle Ages, when Mallorcan shepherds used to make their own sausages using the meat from their pigs. These sausages were then hung in the chimneys to cure and smoke.
Nowadays, sobrasada is still made following the traditional recipe, although industrialization has meant that it is now produced on a larger scale.
The procedure for making sobrasada starts with meat, which is minced until it reaches a diameter of less than 6 mm. Then, it is kneaded by adding paprika, salt and spices, until a homogeneous paste is obtained which is stuffed into casings. The final phase is the seasoning.
Appearance and taste of sobrasada
Sobrasada de Mallorca has an irregular cylindrical shape, with a smooth or slightly wrinkled surface, but without mold. It has a dark red color, both outside and inside. The paste is soft and greasy, while the flavor is characteristic and paprika is very perceptible.
Types of Sobrasada de Maiorca
There are two types of sobrasada de Mallorca, depending on the amount of paprika used in the recipe: sweet or picante (spicy). The former is more common and has a milder flavor, while the latter is spicier and less sweet.
Furthermore, while generally the Sobrasada de Mallorca PGI is composed of 40-70% of lard and 30-60% of lean from pork of various breeds, the Sobrasada de Mallorca de Cerdo Negro PGI is produced only with meat from pigs of one autochthonous breed.
How do you eat it?
Sobrasada is typically eaten as a tapa, or small plate.
Unlike most sausages, sobrasada is also paired with sweet ingredients, such as jam or honey. Indeed it can also be used for the traditional Mallorcan dish of "sobrasada con miel", which is made with sobrasada, honey and fried eggs. Another typical dish is "frito mallorquín". This is a dish made with sobrasada, potato and egg, all fried together.
However, this sausage is usually eaten sliced, on its own or with bread. You can try a "bocadillo de sobrassada", which is a type of sandwich made with sobrassada and bread.
If you are looking for the right wine pairing, choose a full-bodied red wine.
You can buy sobrassada in any supermarket in Mallorca, or in a charcutería. This is a type of shop which sells mainly meat products.
Once opened, you can store it in the fridge for up to a week. It is best to keep it in a cool and dry place, away from direct sunlight.
Are you planning to the Balearic Islands?
Discover our accommodations on Mallorca