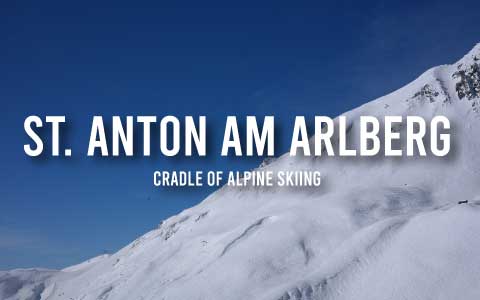 St. Anton am Arlberg, the cradle of the alpine skiing
St. Anton am Arlberg in Austria is a typical alpine village surrounded by majestic natural landscapes but, at the same time, it offers all the comforts of a modern ski area.
Even though the village has only 2000 inhabitants, its position has made it very popular for almost a century. Not for nothing, this area is considered the cradle of alpine skiing and has hosted the 2001 Alpine World Ski Championships and numerous World Cup races.
LET'S FIND OUT MORE ABOUT ST. ANTON AM ARLBERG.
The village
The village of St. Anton is located in the Landeck district, on the border between Tyrol and Vorarlberg, 1300 m above the sea. Like the village of Lech, St. Anton is close to the Arlberg mountain range.
In addition to the beautiful ski slopes, the village provides visitors with spas, swimming pools and wellness parks to relax. Then, there is no shortage of sport facilities or shops and boutiques for shopping.
The numerous restaurants please every kind of taste; you can enjoy the typical Tyrolean cuisine or explore more international dishes. A restaurant to try is the gourmet restaurants Verwallstube at more than 2000 meters above sea level.
St. Anton is also a founding member of "Best of the Alps", the quality association of the 13 most renowned Alpine destinations.
The ski area of St. Anton am Arlberg
It is said that in St. Anton am Arlberg it snows abundantly more than 100 days a year. This means that the Arlberg ski area is a guarantee for those who love winter sports.
The ski area extends for about 50 km², with 1500 meters in altitude and its highest peak is Valluga (2,811 m). There are more than 300 km of slopes for all skill levels, 200 km of off-piste and 88 state-of-the-art ski lifts.
Even those who love snowboarding, freestyle, snowshoeing or sledding can have a lot of fun thanks to special facilities and routes.
Moreover, the lifts are truly remarkable. For example, you can reach the heart of the ski area directly from St. Anton via the new Galzigbahn cable car and then reach the top of the Valluga mountain. Just to let you know, from here starts the longest downhill run in the whole area.
Are you planning a skiing holiday in Austria?
Discover our luxury villas and apartments in St. Anton am Arlberg