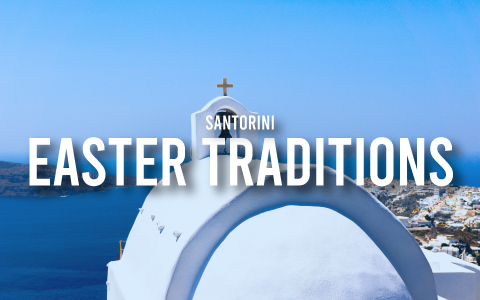 Easter in Santorini is an excellent opportunity to discover some of the most authentic Greek religious traditions.
THE GREEK ORTHODOX EASTER
Greek Orthodox Easter includes the solemn rites of Holy Week. Among these, the most important occur on Good Friday and on Easter Sunday.
In addition to the religious rites, there are many other popular events which are truly suggestive for those visiting the island.
So, here are some of the most fascinating traditions of Easter in Santorini.
EASTER IN SANTORINI, THE EVENTS
THE LIGHT OF CANDLES IN PYRGOS
People in Pyrgos usually light up their houses with lots of candles on Saturday of Lazarus. In addition, they organize  processions through the town during which they walk holding torches. The whole town sparkles in the night and it is a very beautiful sight to behold, especially from a distance.
THE HUGE CRUCIFIX OF MEGALOCHORI
On Saturday of Lazarus, in the central square of Megalochori a big feast takes place. During the feast, people decorate with flowers a large cross, which is over 10 meters high.
THE NIGHT EASTER MASS IN FIRA
As in many other towns of Santorini, in Fira two evocative processions take place on Good Friday.
In addition, on Easter night people from all over Santorini gather in Fira's Cathedral for a night mass. It is a particular mass, since the lights are turned off until midnight. At that moment, to celebrate the resurrection of Christ, the lights remain on until the end of the mass. After that, people celebrate with fireworks.
TRADITIONAL FOOD
During Easter, people of Santorini prepare some typical dishes. Among these are the flaouna, a donut with a red boiled egg in the center, and the melitinia, puff pastry filled with sweet cheese, sugar and eggs.
EASTER IN SANTORINI: THE ISLAND
Greek Orthodox Easter coincides with the beginning of spring.
Although Santorini is a typically summer tourist destination, spring is a great time to visit it.
One of the best thing about visiting Santorini in spring is that there isn't the crowd of the summer months. But the beauty of the island is the same! In fact, you can still admire the fantastic sunsets over the caldera, enjoy wine and food in the taverns, and walk peacefully through the romantic alleys.
Are you planning to visit Santorini during Easter?
Discover our accommodations on the island