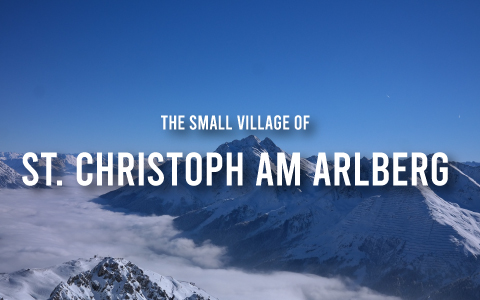 The small village of St. Christoph am Arlberg
St. Christoph am Arlberg is located near St. Anton am Arlberg, in Austria, and is one of the highest alpine ski resorts, at almost 1800 meters above sea level.
Despite this, it is easily accessible thanks to the Arlberg expressway.
Let's get to know this beautiful Austrian mountain village!
THE VILLAGE OF ST. CHRISTOPH AM ARLBERG
The village of St. Christoph am Arlberg is really small; only 40 people live permanently there. But it is very picturesque, thanks to the wonderful mountains that surround it.
Moreover, it is well organized to accommodate the many tourists who come during the winter. Indeed, St. Christoph is a popular tourist destination thanks of its location right below the Arlberg pass, the numerous ski slopes and the state-of-the art ski lifts.
As you can immagine, there is no shortage of fancy hotels or good restaurants where you can enjoy excellent cuisine.
THE HISTORY OF THE VILLAGE
In same ways, St. Christoph's tourist reputation started in during the 14th century. At the time, the pastor Heinrich Findelkind of Kempten built a hospice where hikers could shelter in case of bad weather.
Heinrich Findelkind of Kempten then founded the charitable brotherhood of St. Christoph, which now has nearly 20,000 members worldwide.
The hospice is now a hotel but in the past it was the home of the Arlberg Ski Club, founded in 1901.
In St. Christoph there is also one of the best ski academies, managed by ÖSV, the Austrian Ski Federation.
THE SKI RESORT OF ST. CHRISTOPH AM ARLBERG
The ski area on the Arlberg includes slopes for hundreds of kilometers. There are slopes for every level of experience; from the easiest to the most difficult one.
There are alpine ski runs, cross-country ski runs, off-piste trails, snowshoe trails, toboggan and snowboard runs. Hence, winter sports enthusiasts will find everything they could wish for in St. Christoph.
But also those looking for an adrenaline-pumping experience without skis can have fun. They should definitely try the 850 long  Arlberg Winter Via Ferrata.
And to make everything more beautiful, the wonderful panorama of the Austrian Alps. If you are looking for the best view, we recommend the top of Vordere Rendelspitze. From here you can admire all the Verwall Group and the Lechtal Alps.
Are you planning a skiing holiday in Austria?
Discover our luxury villas and apartments in St. Christoph am Arlberg