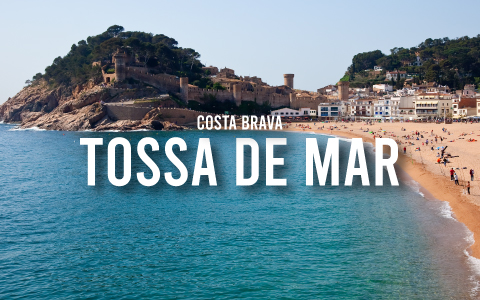 The Picturesque Tossa de Mar, Costa Brava
Are you dreaming of a Mediterranean escape that combines pristine beaches, rich history, and charming coastal vibes? Look no further than Tossa de Mar, along the stunning Costa Brava coastline in Spain. This picturesque town has everything you could wish for in a vacation destination and more. Let's embark on a virtual journey to explore why Tossa de Mar should be at the top of your travel list.
Tossa de Mar,

A Coastal Paradise

Tossa de Mar boasts some of the most beautiful beaches on the Costa Brava. Whether you're a sunbather, a water sports enthusiast, or simply want to relax with your toes in the sand, you'll find your perfect spot here.

One of the most famous beaches is Playa Gran, a large crescent of golden sand that offers fantastic swimming conditions and an abundance of water activities.

If you prefer a more secluded and tranquil setting, head to the hidden coves of Cala Pola or Cala Giverola, accessible by hiking or by boat. These tucked-away treasures will make you feel like you've discovered your own private slice of paradise.
Outdoor Adventures
Tossa de Mar is a paradise for nature lovers and outdoor enthusiasts. The surrounding countryside offers excellent hiking and cycling opportunities, with trails that lead to panoramic viewpoints and hidden coves. The Montgrí Massif Natural Park, located nearby, is a haven for birdwatchers and hikers alike, offering a chance to connect with nature.
Water sports enthusiasts will also find plenty to do, from snorkeling and scuba diving to kayaking and paddleboarding. The crystal-clear waters of the Costa Brava are teeming with marine life waiting to be discovered.
A Cultural Destination
Tossa de Mar is not just about beaches; it's also steeped in history and art.
The town's crowning jewel is its well-preserved medieval old town, known as the Vila Vella. Encircled by imposing stone walls and watchtowers, this charming labyrinth of narrow cobbled streets and quaint squares will transport you back in time. The Vila Vella's most iconic attraction is the Tossa de Mar Castle. Perched atop a hill, this 12th-century fortress offers breathtaking panoramic views of the town and the Mediterranean Sea. Inside the castle, you'll find a museum that traces the town's history and culture through various exhibits.
The town has long been a muse for artists, and you can feel the creative spirit in the air. Stroll through town, and you'll encounter numerous art galleries showcasing the works of local and international artists. The town's captivating landscape and Mediterranean light have inspired many renowned painters and continue to do so today. One such artist is Marc Chagall, who spent time in Tossa de Mar and found inspiration in its beauty. You can visit the Marc Chagall House-Museum, which celebrates his life and work while offering insight into his connection with the town.
Local

Culinary Delights

No trip to Tossa de Mar would be complete without savoring its delectable cuisine. As a coastal town, seafood takes center stage in many of the local dishes. From freshly caught fish to mouthwatering paellas, you'll be treated to a gastronomic adventure that highlights the region's flavors.

Be sure to dine at a traditional Catalan restaurant and sample local specialties like suquet de peix (fish stew) or crema catalana (a delightful dessert similar to crème brûlée). Pair your meal with a glass of regional wine, and you'll experience a true taste of Catalonia.
A Warm Welcome in Costa Brava
One of the standout qualities of Tossa de Mar is the warmth and hospitality of its residents. Indeed, the town prides itself on being a welcoming destination for those seeking an authentic Spanish experience. And it can be a great starting point for exploring Costa Brava and visiting towns such as Lloret de Mar, Cadaques or Girona.
Are you planning to visit Tossa de Mar?
Discover our luxury villas on Costa Brava