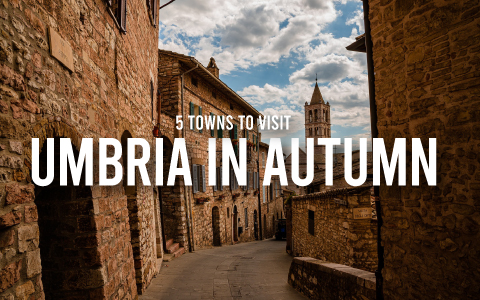 Umbria in Autumn is a fantastic destination for a short vacation. This region in central Italy is home to beautiful rolling hills and forests where you can admire the foliage, but also medieval villages, and plenty of vineyards. In this article, we'll give you 5 suggestions for towns that are worth visiting in the fall. So put on your walking shoes and get ready to explore!
5 TOWNS TO ENJOY UMBRIA IN AUTIMN
Perugia, the capital of Umbria, is a great place to start your trip.
This city has a long history dating back to the Etruscan people and today it's a lively university town. Be sure to visit the Palazzo dei Priori, one of the most impressive buildings from the medieval period, and the Rocca Paolina, a fortress built by Pope Paul III in the 16th century.
For something a little different, check out the National Gallery of Umbria, which has an excellent collection of Italian and Umbrian art.
Assisi
Assisi is another must-see town in Umbria. This is the birthplace of St. Francis and it is one of the most important religious sites in Italy. The Basilica di San Francesco is a beautiful Gothic church that's definitely worth a visit. You can also explore the Eremo delle Carceri, a hermitage where St. Francis used to go for prayer and contemplation.
If you want to learn more about the life of St. Francis, be sure to visit the Museo di San Francesco.
Gubbio
A trip to Umbria in Autumn must include a stop to Gubbio, a small town located in the mountains of Umbria.
This town is famous for its medieval architecture and it is definitely one of the most well-preserved towns from that period. Be sure to visit Palazzo dei Consoli, the 14th century town hall, and the Duomo di Sant'Ubaldo, a Gothic cathedral. You can also take a cable car up to Monte Ingino for some stunning views of Gubbio and the surrounding area.
Orvieto is another medieval town that's worth a visit.
This town is on a hilltop and it's famous for its beautiful cathedral. The Duomo di Orvieto is definitely the highlight of this town and you can catch a glimpse of it from far away, even before arriving in the town. Once there, you will find out that this Gothic cathedral is covered in mosaics and it has some of the most beautiful stained glass windows that you'll ever see. Be sure to also check out the Palazzo del Popolo, the 13th century town hall.
Finally, we suggest visiting Spoleto. This town is in the mountains and it's known for its Roman ruins.
The highlight of Spoleto is definitely the Teatro Romano, an ancient Roman theatre that's still in use today. You can also explore the Palazzo Comunale, the 12th century town hall, and the Duomo di Santa Maria Assunta, a Gothic cathedral. However, as soon as you arrive in the city, the first thing you will see will be the Albornoziana fortress that dominates the entire historic center of Spoleto: a must visit.
So there you have it, five towns that are definitely worth visiting in Umbria in Autumn. So what are you waiting for? Start planning your trip today!
Are you planning to visit one of these enchanting Italian towns?
Discover our accommodations in Umbria