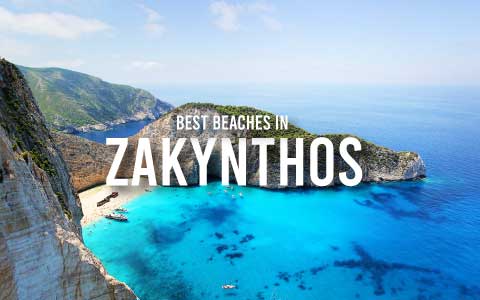 BEST BEACHES IN ZAKYNTHOS
The Shipwreck Beach, Xigia Beach, Laganas e Marathonisi are just 5 of the best beaches in Zakynthos. Of course, the list could be longer.
Zakynthos, also known as Zante, is the third largest of the Ionian Islands but it is sufficiently small to be easily explored by car. Its jagged coastline and territory hide plenty of lovely beaches and spot to discover.
When thinking about a vacation on a Greek islands surely people immediately think of Santorini, Mykonos, Crete or Rhodes. However, Zakynthos is becoming more and more a popular tourist destination. Maybe it's due to its international airport which facilitates the connections with other countries, or because of its stunning beaches.
Do you want to know which are the best beaches in Zakynthos? Here are a few of them.
Best beaches in Zakynthos
The Shipwreck Beach (Navagio Beach)
The Shipwreck Beach, or Navagio Beach, is definitely the most popular and photographed spot in Zakynthos.
This beach has clear light blue waters, white sand and 200 mt high white cliffs all around.
However, its main feature is the wreck of an old cargo boat, the MV Panagiotis. You may have heard that is that of a tobacco smuggler's ship that crashed during a storm, but it is just a boat that ran ashore in 1980.
Despite being accessible only by boat, the best way to enjoy the beauty of Navajo Beach is from the viewing platform at the top of the cliffs.
Xigia Sulfur Beach
The wildest part of Zakynthos is the northern one, and this is where Xigia Beach is located.
Actually, there are two Xigia Beaches, side-by-side.
Easily accessible by car, the beach is surrounded by steep cliffs, the sand is made up of small white pebbles and the blue color of the sea is really peculiar. This is due to a high concentration of sulfur coming from a spring hidden in a nearby cave.
The smell of sulfur could be somehow annoying but spending a few hours at Xigia Beach is a sort of free spa experience!
Besides this, the deep water and the rocky seabed make Xigia Beach one of the best beaches in Zakynthos for snorkeling.
Laganas
On the southern coast of the Island is the bay of Laganas, which probably forms the largest beaches in Zakynthos.
Unlike Navagio Beach or Xigia Beach, Laganas can be pretty crowded. There are plenty of sunbeds, parking lots, and numerous restaurants and bars that are very lively at night.
This is the perfect beach if you don't mind to be around people or want to enjoy the nightlife. But it's good also if you have children, thanks to the shallow water and the many tourist facilities.
Marathonisi
The bay of Laganas is also home to a small island, Marathonisi, where you can find one of the most appreciated beaches in Zakynthos.
There are actually two beaches, both equally stunning.
One is perfect for snorkeling thanks to the nearby sea caves.
The other gently slopes towards the sea, which color is between green and blue and becomes darker offshore. It looks like a Caribbean beach!
The island is part of a Marine Park and is a protected area, therefore the beach is accessible up to 3 meters from the shore, with a rope clearly delimiting the free area.
Marathonisi is nicknamed Turtle Island" for two reasons.
First, it is where the Caretta Caretta turtles, a protected species, lay their eggs.
Second, its profile recalls that of a sea turtle. This is particularly visible when looking at the island from the stretch of coast between Keri and Marathia.
As this is a protected area, there is no tourist facilities, so remember to always bring water and food with you.
Do you want to visit Zakynthos?
Discover our accommodations on the Greek Islands