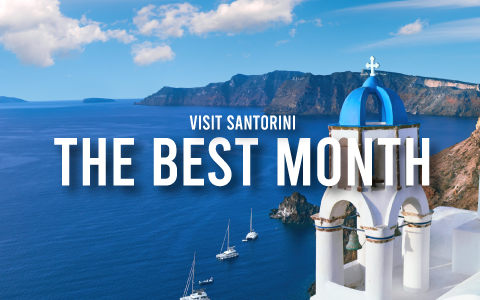 Santorini is a beautiful Greek island located in the Aegean Sea. It's renowned for its stunning landscapes, picturesque villages and majestic beaches. With its vibrant culture, delicious cuisine and world-famous wines, Santorini offers something for everyone. But what is the best month to visit Santorini?
The best month to visit Santorini
Well, the best month to visit Santorini is June. With pleasant temperatures and plenty of sunshine, it's ideal for exploring everything that Santorini has to offer.
Why June is the best month for traveling to Santorini
As we have said, in June, the temperatures are perfect, around 25-30 degrees Celsius, and you can find plenty of sunny days. This mix is great for staying outside, moving from village to village, or simply relax at the beach, without feeling too hot.
But during June you can also experience vibrant cultural events. One is the Santorini Jazz Festival, which takes place in Fira Town Square. This festival features live performances from some of Greece's most talented musicians. Other festivities include the traditional Agios Ioannis festival in Pyrgos and a variety of musical evenings across various towns on the island.
Finally, June is also an excellent time for foodies! Local restaurants serve up fresh seafood dishes that capture the flavours of the Mediterranean. Plus, Santorini is home to some of the best wine-producing vineyards in Greece. You can take part in guided tours and tastings to discover why the island's wines are so highly esteemed.
10 things to do in Santorini in June
Besides beaches, events, wine tastings, and restaurant dinners, what else can you do in Santorini in June? Here are a few ideas:
Explore the Caldera: Take a boat ride across the bay to get up close and personal with the breathtaking cliffs of Santorini. Don't forget your camera!
Visit Oia: This picturesque village has some of the most beautiful views in all of Greece. There's plenty to explore, from white-washed houses perching on the cliff edge to small boutiques selling handmade jewelry and crafts.
Take a spa escape: Unwind after a day of exploration. How? With a massage or beauty treatment at one of Santorini's many spas.
Party the night away: Santorini is renowned for its nightlife, so don't miss out on an evening of dancing and fun at one of the many bars or clubs.
Explore Akrotiri: This ancient Minoan settlement is one of the most important archaeological sites in Greece. Visit to explore the ruins and get a glimpse into Santorini's history.
Go shopping at Fira: From handmade crafts to high-end designer stores, there's something for everyone in this bustling shopping district.
Get active outdoors: With plenty of hiking trails, bike paths, and watersports to choose from, you can stay fit while soaking up the scenery of Santorini's stunning coastline.
Watch a show: If you're looking for an entertaining evening, check out one of the performances at Theatro Kamari or Odyssey Theatre.
Go sailing: Take a day out on the open sea and explore some of the other islands nearby, such as Ios and Naxos.
Island hopping: Discover the lesser-known islands of Santorini, such as Thirassia, Nea Kameni, and Palea Kameni.
Are you ready for Santorini?
So if you're looking for your perfect getaway this summer, be sure to add Santorini to your list. With its idyllic beauty, vibrant culture, and plenty of things to do in June, it's truly an unforgettable destination!  Pack your bags and book a stay in one of our luxury villas – you won't regret it!
Do you want to visit Oia or Fira?
Book a stay at one of our luxury villas on Santorini