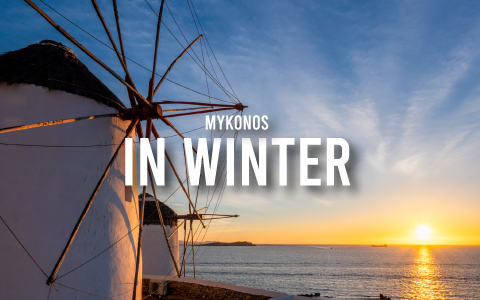 If you're looking for a breathtaking winter getaway, look no further than Mykonos. This magical island is just as beautiful in the colder months as it is in the summertime. With its whitewashed houses, stunning beaches, and winding streets, Mykonos is a must-see destination even during the cold months. In this article, we'll list some of the best things to do and see on Mykonos in winter. So put on your coat and pack your bags – we're about to explore the beauty of Mykonos!
Winter weather in Mykonos
The main reason Mykonos is suitable for a winter trip is its climate. Winters are never really cold-the average temperature in January is 11 °C, and it is the coldest month! Precipitation, which is most frequent from October to March, is also never abundant, as evidenced by the island's arid landscape. This makes it livable year-round, and winter may be the best time to visit if you don't love the summer heat and tourist crowds and adore the stormy sea. In fact, Mykonos in winter is quite windy. The island is in a position where it frequently receives cold air, so much so that sometimes it can even snow, as it did in January 2022.
Certainly, during a winter trip to Mykonos you have to consider that many tourist facilities are closed, in return you have the whole island to yourself. Also, do you know how lucky you would be if you saw the island covered with snow?
Mykonos in winter: 7 things to do
1) Exploring Mykonos Town
A great way to experience Mykonos in winter is to explore the charming town. Mykonos Town is a picturesque maze of narrow cobblestone streets lined with whitewashed houses and dozens of lovely churches. Take your time walking around, admiring the architecture, and taking in the peaceful atmosphere. Then, take a break in one of the many cafes and restaurants. In Mykonos Town there are also plenty of shops and boutiques where you can find perfect gifts, such as traditional Greek pottery, or buy a new stylish winter wardrobe. Finally, why not end the day at one of the bars or clubs? Mykons night life rocks even in winter.
2) Going on a Mykonos food tour
Mykonos is renowned for its delicious and unique cuisine. The island has a rich culinary history, incorporating influences from all over the Mediterranean.
To make the most of Mykonos' food scene, consider going on a Mykonos food tour. Your guide will take you to some of Mykonos' best restaurants and cafes, and teach you all about Mykonos' distinctive dishes, such as moussaka, souvlaki, gyros, and more. Plus, you'll get to meet the locals, which is always a great experience!
3) Visit Mykonos Wineries
Mykonos is also home to some great wineries. So, why don't you visit the famous vineyards and sample some of the island's finest wines? The island is known for its crisp white wines, so make sure to pick up a bottle or two! After all, what better way to enjoy Mykonos in winter than with a glass of Mykonian wine?
4) Taking a scenic drive around Mykonos in winter
Taking a scenic drive around Mykonos allow you to explore the island's countryside, the picturesque villages, the olive groves, and the vineyards. The best spot to start your tour? Mykonos' famous windmills! They are located on the hill overlooking Mykonos Town and they were used to grind grain into flour in the 18th century. Today, they are the main landmarks of the island.
5) Exploring Mykonos' archaeological sites
Mykonos is home to some fascinating archaeological sites, including the Mykonos Acropolis and Delos.
Mykonos Acropolis is perched high on a hill overlooking Mykonos Town and provides spectacular views of the island. This ancient citadel is an important archaeological site and it is believed to have been built by Mycenaean Greeks in the 11th century BC. Delos, located just off Mykonos' coast, is another important archaeological site. It is considered the sacred birthplace of Apollo and Artemis, two of the most important gods in Greek mythology. Take a boat tour to explore this fascinating island and learn about its myths and history.
6) Go Hiking
Mykonos is home to some stunning hiking trails, which are perfect for exploring during winter sunny days. One example is the Mykonos Trail from Mykonos Town to Ano Mera. This trail is particularly beautiful in winter, as it takes you through forests of olive trees and across the island's rugged terrain. During your hike, keep an eye out for wildlife such as ibex, wild goats, rabbits, and hares. And if you are into birdwatching, you will not be disappointed.
2) Visiting Mykonos' beaches
Why not? Though Mykonos' sea is too cold for swimming in winter, beaches are still worth visiting.
When the sun shines high in the sky, it is good to lie down or stroll along the shoreline and enjoy the breathtaking views. And when the weather is cloudy, the beaches will be cloaked in an unprecedented atmosphere, very different from the summer photos we see on Instagram. The light and colors are so different and incredibly fascinating! Some of the best beaches in Mykonos you have to see are Elia beach, Paradise beach, Psarou beach, and Panormos beach.
As you can see, Mykonos in winter can be a great experience. Just remember to bring some heavy clothing and your best camera, because the island will show you its more authentic and wild side, and you certainly don't want to miss it!
Are you planning a winter trip to the Greek islands?
Discover our luxury holiday homes on Mykonos