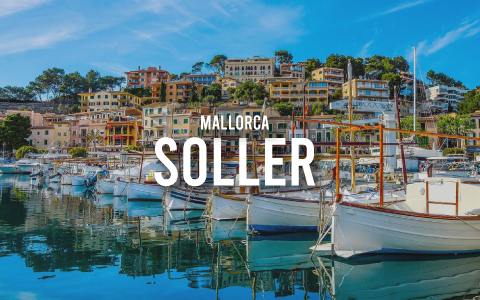 Exploring the Enchanting Beauty of Sóller, Mallorca
Sóller stands as a captivating testament to the beauty of Spain's Mediterranean coastline. Located in the heart of the picturesque Balearic island of Mallorca, the town shows charming streets, lush citrus groves, and a rich cultural heritage.
Let's learn more!
Sóller: A Spanish Gem
Sóller's history dates back centuries, and its architecture and landmarks provide glimpses into its storied past. One of the most iconic structures is the Church of Saint Bartholomew, a stunning example of Gothic architecture that has graced the town's skyline since the 13th century. But as you wander through the cobbled streets, you'll also encounter charming houses adorned with modernist and art nouveau influences, giving Sóller a unique blend of old-world charm and artistic innovation.
Some of the main attractions to visit in Sóller are:
Plaza de la Constitución: This central square is the heart of Sóller and a great starting point for your exploration.

Jardí Botànic de Sóller: If you're a nature enthusiast, the botanical garden is a must-visit.
Can Prunera Modernist Museum: The museum features an impressive collection of modernist and art nouveau works.

Sóller Market: Held in the Plaça des Mercat, it offers a vibrant array of fresh produce, traditional crafts, and artisanal products that showcase the local flavors and craftsmanship.
Tranquil Oasis of Nature
Beyond its architectural marvels, Sóller boasts a natural landscape that is equally captivating.
Surrounded by the Tramuntana mountains, the town is a gateway to an array of outdoor adventures. Hiking enthusiasts can embark on trails that wind through breathtaking scenery, offering panoramic views of the Mediterranean Sea and the lush valleys below. The journey to Sóller's neighboring village, Fornalutx, is a particular delight, often referred to as one of Spain's most beautiful villages.
Cultural Enrichment
Sóller's artistic spirit extends beyond its architecture to encompass a vibrant cultural scene. The town has attracted artists and creative minds for generations, resulting in an array of galleries, studios, and artisan shops that showcase local talent. Visitors can explore exhibitions ranging from traditional Mallorcan art to contemporary masterpieces, capturing the essence of Sóller's creative energy.
Gastronomic Delicacies
No exploration of Sóller would be complete without indulging in its delectable gastronomy.
The town's proximity to the sea ensures a steady supply of fresh seafood, which finds its way onto the menus of local restaurants. From traditional tapas to innovative fusion dishes, Sóller's culinary offerings are a delightful reflection of its rich cultural influences.
Festivals and Events
The town does not fail to delight visitors with engaging events related to its history and traditions.
One example is Es Firo which typically takes place on the second Monday in May. The festival is a full day of festivities, beginning early in the morning and continuing well into the night. The town comes alive with various events, performances, and traditional customs that transport participants back in time.
The highlight of Es Firo is the battle reenactment. Locals dressed in period costumes recreate the clash between the townspeople and the invading pirates. Participants take on the roles of both defenders and attackers, engaging in a mock battle that is both exciting and entertaining. They also use real gunpowder to create loud explosions that mimic cannon fire. This adds an element of authenticity to the event, making the experience even more immersive.
Another festival is Fira de la Taronja (Orange Fair). Here you can savor freshly squeezed juices, homemade marmalades, and a variety of citrus-infused treats. The aroma of citrus blossoms fills the air will leave you a lasting memory.
The Vintage Sóller Train
One of the most enchanting ways to arrive in Sóller is by taking the historic wooden train. It connects the town to the city of Palma de Mallorca. Known as the "Red Lightning," it offers a leisurely ride through the lush countryside, providing with stunning vistas of the surrounding landscape. This train journey will surely add some allure to your trip to Sóller.
Are you planning to visit Soller?
Discover our luxury villas in Mallorca