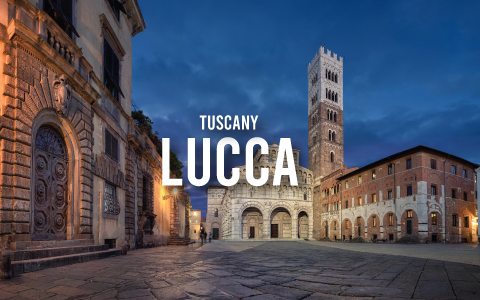 WHAT TO SEE AND DO IN LUCCA: ATTRACTIONS AND EVENTS
Lucca, in the northwestern part of Tuscany, is a beautiful city worth visiting. Here you can admire buildings and architecture of different styles, demonstrating its long history. In fact, Lucca was founded by the Romans (some say by the Etruscans), experienced a period of splendor in the Middle Ages and the Renaissance, and today is a lively and welcoming city.
So, let's find out more about Lucca!
What to see in Lucca
Lucca has located about 40km from Forte dei Marmi, 45km from Pistoia, 26 km from Viareggio, and about 80km from Florence. Here are some of the things you absolutely must see during a trip to town
1) Lucca's city walls
The walls of Lucca are 4 kilometers long, 30 meters wide, and 12 meters high. They were built between 1513 and 1645 and are still perfectly intact. Today, they are a magnificent tree-lined avenue that in spring is full of beautiful flowers and in autumn offers the spectacle of foliage. In addition, they are the scene of various events throughout the year.
2) Piazza dell'Anfiteatro
This square is named after the Roman amphitheater that once stood here. The elliptical shape still remained and today it is home to several bars and restaurants perfect for enjoying a great atmosphere in Lucca's historical center. The peculiarity is that there are no large access roads, but only four small entrances. In short, Piazza Anfiteatro is truly the sheltered heart of the city.
3) Chiesa di San Michele in Foro
Located on Piazza dell'Anfiteatro, the church of San Michele is a fantastic example of Romanesque-Gothic architecture, combining several styles. This is due to the fact that the construction of the church began in the 11th century and ended in the 14th century.
The church stands where the Roman forum, i.e. the square, once stood.
It has a unique façade with three arches dedicated to the Virgin Mary, St. John the Baptist, and St. Michael Archangel. It is surmounted by a large marble statue of the archangel Michael fighting a dragon and a local legend says that, in particular light conditions, the statue emits a green glow.
Inside you can admire beautiful frescoes and statues dating back to the 15th and 16th centuries as well as paintings by Jacopo della Quercia, a famous Tuscan artist of the Renaissance period.
4)The Cathedral of San Martino
The Cathedral of San Martino, in the Romanesque-Renaissance style, is very special because of its asymmetrical façade. This detail is due to the fact that the builders had to adapt the façade to the existing bell tower. On the façade, you can see the statue of St Martin, while on the right side, there is an engraving of a labyrinth that could refer to the myth of Ariadne and Theseus.
Inside the church, you can see the sarcophagus of Ilaria Del Carretto, by Jacopo della Quercia. Ilaria was the wife of the politician Paolo Guinigi and died young in 1405. The sarcophagus, made of light-colored marble, depicts her lying down and serene, with her dog curled up at her feet.
5) The garden on top of Torre Giunigi
It is said that there were 250 towers in Lucca in the Middle Ages. Today you can visit two of them: the Guinigi Tower and Torre delle Ore. The first, however, has something that makes it special: on its top, at 45 meters above the ground, there is a small garden of centuries-old holm oaks. To get to the top you have to climb a staircase of 230 steps, but it is well worth it.
Torre delle Ore is even taller: 50 meters! Its clock, which dates back to the 17th century, is still perfectly functional.
6) Museums in Lucca
Like all historic Italian cities, Lucca has numerous museums, palaces, and archaeological sites. Here are some of them:
– Domus Romana: an archaeological site in the center of Lucca, discovered in 2010;
– Puccini Museum, dedicated to the famous Italian composer;
– Palazzo Mansi, with its original 18th-century furnishings and numerous works of art;
– Museo della Cattedrale, dedicated to religious objects;
– Barsanti and Matteucci Foundation Museum, which preserves prototypes of the first internal combustion engine and hosts temporary exhibitions of historical scooters;
– Museo della Zecca di Lucca: collects coins and medals produced in Lucca in all eras.
7) Events in Lucca
The city of Lucca organizes numerous events throughout the year. Some of them are dedicated to classical and operatic music (Lucca Classic Music Festival, Cartoline Pucciniane), rock and jazz (Lucca Jazz Donna, Lucca Summer Festival), and contemporary music (Puccini Opera Festival, Wom Fest, Dance Meeting). Then, there are also art events. But if you travel with your kids, you absolutely must visit the Lucca Comics & Games fair, which takes place in October every year. It is the most important festival dedicated to comics and gaming in Italy.
8) Shopping in Lucca
Shopping in Lucca is an enjoyable experience.
In the center of the city, you can find all kinds of shops, from small boutiques to larger stores. There are also many local products that you can buy as souvenirs: leather goods, jewelry, textiles, and food specialties (the typical "schiacciata lucchese" or the famous chestnut cake). And if you're looking for something unique and original, don't miss out on visiting one of the many antique markets where you can find old books and furniture.
Finally, don't forget to take a look at the craftsmanship workshops located in some historical palaces and squares. Here, you can find beautiful handmade items such as glass ornaments, paintings, pottery, and sculptures.
if you have time, take day trips around Tuscany. This region has a lot to offer to its visitors, from the Casentino Castles to the wonderful Val d'Orcia up to, of course, the many historic cities, such as Lucca.
Are you planning to visit Lucca?
Discover our accommodations in Tuscany