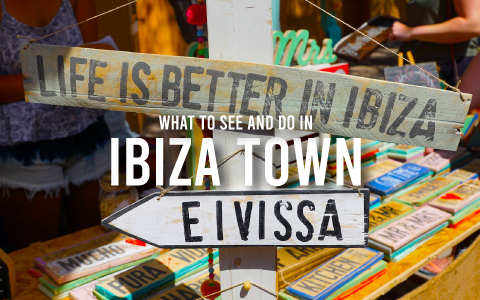 WHAT TO SEE AND DO IN IBIZA TOWN
Ibiza Town is a perfect destination for travelers looking to explore a unique mix of culture and history while having fun in the sun. Ibiza has something for everyone, with its amazing beaches, beautiful architecture, delicious food, and lively nightlife. Whether you're looking to relax on the beach or take part in some wild partying, Ibiza Town has it all!
What is worth visiting in Ibiza Town?
The old town district is a great place to start, with its whitewashed buildings and cobblestone streets. Here you'll find plenty of boutique shops, cafes, and restaurants where you can get the full Ibizan experience. Don't forget to visit Dalt Vila (Ibiza's old city), one of the oldest cities in Europe! It's packed with incredible sights like its old fortresses, churches, and ancient walls. But the whole town is steeped in history, with buildings dating back centuries. Another example of a historical site to explore is the Cathedral of Santa Maria d'Eivissa. And once you are tired, take a stroll through the Sa Penya neighborhood where the locals live and shop.
5 tourist attractions in Ibiza Town you should visit:
Punta Arabí Hippy Market – this is a must-visit when in Ibiza Town! Here you'll find plenty of handmade crafts, jewelry, clothes, and souvenirs that reflect the island's culture and history.
Las Salinas Nature Park – this nature park is home to one of Europe's most beautiful beaches, with its crystal clear waters and white sand. It's also a great spot for bird watchers who can watch the flamingoes wading in the shallow salt lakes.
Sa Penya – one of the oldest sections of Ibiza Town, this neighborhood has plenty to explore. Take some time to wander through its narrow streets and take in its colorful buildings, murals, and boutiques.
Es Vedrà – Es Vedrà is one of the most spectacular sights in Ibiza Town. This rocky island can be seen from many points around town, but it's definitely worth taking a boat ride out there for an up-close view!
Ibiza Cathedral – The Gothic cathedral is a must-see for visitors, with its incredible architecture and history. Don't forget to check out the museums and crypts located within the building as well.
What about the nightlife?
Ibiza is famous for its nightlife and Ibiza Town offers plenty of legendary clubs and parties. From sunset to sunrise, visitors can experience an unforgettable night out with lots of dancing, music, and drinks! There are also many bars and pubs in town that are open until late so you can enjoy a few drinks with friends after a long day exploring.
5 clubs and bars you should go to in Ibiza Town:
Amnesia – this iconic club has been hosting wild parties since the 70s and is one of the most popular clubs in Ibiza Town.
Pacha – this world-famous nightlife venue features live bands and DJs playing a wide range of music, from techno to hip-hop.
Privilege Ibiza – located in San Rafael, this huge club holds up to 10,000 people making it one of the biggest clubs in Europe!
Ushuaïa Ibiza – this beachfront club offers everything from poolside bars to all-night raves and is a great place for visitors looking for some fun in the sun!
Café del Mar – this popular bar is home to some of the best sunset views in town and serves up delicious cocktails and snacks.
Best beaches near the Town
When it comes to beaches, Ibiza Town offers plenty of options. Playa d'en Bossa is a popular spot for partying but if you're looking for something a bit quieter, then Cala de Bou can offer beautiful sunsets and a more peaceful atmosphere. For those seeking adventure, there are great water sports activities available in the nearby areas such as jet skiing and kayaking.
5 beaches near Ibiza Town you should visit:
Cala Bassa – this beach has clear waters and white sand, making it a great spot for swimming and snorkeling.
Playa d'en Bossa – this is one of the most popular beaches in Ibiza Town, with plenty of restaurants, bars, and shops nearby.
Cala Conta – this beach offers stunning scenery along with plenty of activities including windsurfing and sailing.
Talamanca Beach – Talamanca Beach is one of Ibiza's most popular beaches, located just a few minutes from Ibiza Town center. With its golden sand and stunning views of Ibiza's old city, Talamanca is a great spot to relax and enjoy the Mediterranean Sea.
Es Cavallet Beach – another popular beach with plenty of things to do such as kite surfing and beach volleyball.
Overall, Ibiza Town has something for everyone. So come and experience the magic of Ibiza Town – you won't be disappointed!
Are you planning to visit Ibiza Town??
Discover our luxury villas on Ibiza