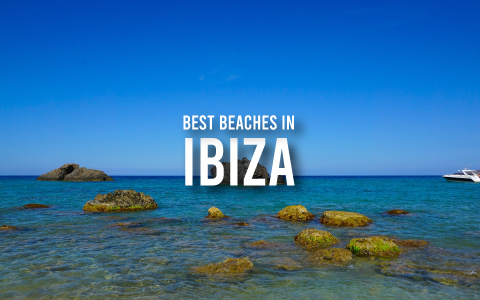 Best beaches in Ibiza you should visit
Are you wondering which are the best beaches in Ibiza? We understand you. The White Island offers visitors plenty of sun, sand and sea. There are so many stunning beaches here, from large equipped beaches to wild coves. There is something for everyone!
Here is our list of the best beaches in Ibiza, where to relax while waiting for a night at the club, or between a visit to Ibiza Town and an excursion to Formentera or Sa Dragonera.
9 of the best beaches in Ibiza
Ses Salines
Playa de Ses Salines is located in the southern part of the island, in the Protected Natural Park of the Salinas of Ibiza. It is a beach that is as beautiful as it is lively thanks to the various beach clubs and bars, and the possibility of practicing water sports.
Cala Conta
This beach, also called Cala Comte, is located in the northwestern part of Ibiza, near San Antonio Bay. It is one of the most beautiful beaches on the island, with crystal clear waters and a wide variety of activities such as snorkeling or kayaking. There are several beach bars along the shore where you can enjoy lunch or dinner.
Es Vedrà
Islote de Es Vedrà is a limestone islet to be visited by boat. The beach shows stunning rock formations and face a beautiful bay. It is a fantastic spot to enjoy a romantic sunset or take amazing photos.
Along with other islets, it has been a nature reserve since 2002. In addition, it is a place of legends. In fact, people say it was inhabited by mermaids and sea nymphs.
Sa Caleta
Surrounded by rocky outcrops, Sa Caleta is a beach with a very special, almost extraterrestrial atmosphere. It is the place to be if you love the beach but also the culture. Not far away is a UNESCO archaeological site dedicated to an ancient Carthaginian settlement from the 7th century BC.
Cala d'Hort
Positioned in an inlet, on the western part of the island, with both sand and pebbles, Cala d'Hort is not only enchanting, but also one of the most fashionable beaches in Ibiza, where you can have happy hour while admiring the islet of Es Vedrà.
Cala es Portixol
If you want a quiet place to relax, Portixol is the right beach. Here you will find tranquility, crystal clear sea, a pebble beach surrounded by maritime pines. Be aware, it is very popular with nudists.
Playa de s'Aigua Blanca
Located in the northeastern part of Ibiza, near Santa Eulalia del Rio, it is one of the most popular nudist beaches in Ibiza. Here you will find golden sand, green hills, crystal clear sea and a wild atmosphere with only a couple of kiosks where you can find something to drink or eat
Playa de Talamanca
Located in the southeastern part of Ibiza, Talamanca Beach is popular with couples and families. Here you won't find the loud music and party atmosphere of other Ibiza beaches, although there is no shortage of bars. The sand is soft and the sea clear, perfect for snorkeling or other water sports.
Playa d'en Bossa
Playa d'en Bossa is the longest beach on the island of Ibiza, with white sand and clear sea. It is crowded, beloved by young people, and there are many restaurants, shops and clubs. In fact, this is where famous DJs come to play as much during the day as at night.
These are just some of the best beaches in Ibiza, so feel free to explore more and discover your own special spots. Enjoy your time on the White Island!
Are you planning to visit Ibiza?
Discover our accommodations on the White Island